What 54 people say about Meat & Co
Write a review
---
ondanks corona maatregelen was het een gezellig avondje uit , heerlijk gegeten, goede service, de bediening was erg vriendelijk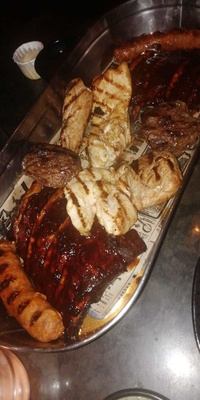 PJ Otter
at 13 October 2020
Verified
---
"Zo moet het NIET! Jammer."
Teveel gasten in een kleine ruimte, geen 1,5 meter beleid, te weinig capaciteit qua bediening, dus lang wachten en weinig service. Ook kort en stroef contact. Voedsel redelijk, geen topkwaliteit. Dankzij kortings actie viel alleen de rekening mee.
Frans
at 26 September 2020
Verified
---
Heerlijk gegeten. Vriendelijk personeel. Prijsgunstig. Geen menu. Je kon eten wat je wilde en het cheque bedrag ging van de rekening af. Top
Anne-Mie
at 04 September 2020
Verified
---
Het eten was goed en voor een redelijke prijs. Zijn hier 2 dagen achter elkaar geweest Moet je niet doen. Groente die je er bij krijgt zijn hele grote stukken courgettes en paprika soorten die kort in de wok gaan .wat kleinere stukken was prettiger Geen andere groente te krijgen Verder is het 3 gangen menu top
W Lensink
at 30 August 2020
Verified
---
"beetje weinig"
met de dinercheque een (zeer) beperkte kaart, de spareribs bestonden uit 7 botjes, de smaak was goed.
Personeel had er blijkbaar die dag er geen zin in.
RK
at 03 August 2020
Verified
About Meat & Co
In fantastic Alkmaar you will find the amazing restaurant Meat & Co. Here you can enjoy high-quality meat, prepared by the kitchen team on the exclusive charcoal grill. The waiting staff advises you with love and passion a matching wine or one of the outstanding specialty beers, which makes for a unique culinary experience. Meat & Co restaurant has an industrial interior which creates a cozy and cool atmosphere.
Reserve a table
Reserve a table