Deal

4 course Chef's dinner

€31.50
During the National Restaurant Week, top restaurants offer a fantastic and also a very affordable surprise menu. An offer you don't want to miss!

Based on reviews restaurant Umami by Han Eindhoven has been selected as one of the top participating restaurants.

Would you like to enjoy the 4 course Chef's dinner at restaurant Umami by Han Eindhoven for only €31.50?
Book your table now!
Please note. Seats are limited. Online reservations are mandatory.

Are there any dietary requirements? Please mention this on the reservation form so the restaurant can take this into account.
Reserve a table
Reserve a table
Reservable till 30 September 2020
Not in combination with other offers
The price of the deal is per person
Only valid for online reservations through www.diningcity.nl
What 58 people say about Umami by Han Eindhoven
Write a review
---
Top eten!
Rob van der Sluijs
at 20 September 2020
Verified
---
"Erg lekker eten en vriendelijke bediening!"
Afgelopen woensdag zijn we hier gaan eten en we waren positief verrast! Eten was super! Heel erg vriendelijke bediening, lekkere wijn en alles was in perfect tempo geserveerd. We komen zeker nog eens terug! Bedankt Umami voor een top avond
Fleur
at 18 September 2020
Verified
---
"Lekker."
Lekker en verrassende combinaties.
Astrid De swart
at 18 September 2020
Verified
---
"Heerlijk gegeten!"
Heerlijk gegeten, 5 gangen(met telkens 2 gerechten per gang ) in goede(best flinke) porties voor maar 42.50€. Het vegetarische menu was ook heel gevarieerd en erg lekker. Bediening uitstekend. Minpunt: het lange wachten(uur) op het dessert. We kregen wel een excuus en een extra kopje koffie aangeboden.
Prijs/kwaliteit uitstekend!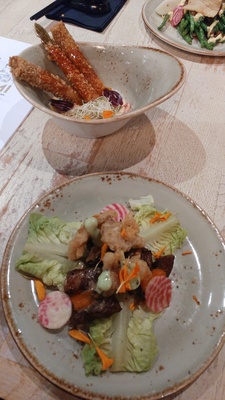 Anne
at 13 September 2020
Verified
---
Met restaurantweek er geweest. Erg goed menu, erg goede en attente bediening en erg lekker eten. Meer dan voldoende eten ook in aangename omgeving. De 2 veganistische eters in ons gezelschap kregen ook erg lekkere alternatieven voor de vleesgerechten. Kortom, wil je eens anders Chinees eten dan bij de 'afhaalchinees', dan is dit zeker een dikke aanrader!
Rob Duppen
at 09 September 2020
Verified
Kleine Berg 57H 5611 JT Eindhoven
About Umami by Han Eindhoven
Unami by Han is located on the Kleine Berg in Eindhoven. The restaurant is located in an artistic area with many galleries, boutiques, trendy shops, and restaurants. The atmosphere of the restaurant reminds you of hip Asia. At Umami by Han you can get acquainted with Asian fusion dishes. These delicious dishes are combined with French cooking techniques. The owner attaches great value to quality, health and a high culinary level for an affordable price. Be surprised by the delicious Asian cuisine! Reserve a table quickly at Unami by Han.
Reserve a table
Reserve a table