The White Room by Jacob Jan Boerma*
93%
What 95 people say about The White Room by Jacob Jan Boerma*
Write a review
---
"Helemaal af"
Van het begin tot het eind geweldig. Een echt avondje uit. Het begint met het fingerfood. Daarbij kwamen al de heerlijke smaken naar boven. Ik houd echt van de scherpe/diverse smaken in combinatie met de verfijning. Doe daarbij fijn personeel en de avond is compleet. Dankjewel daarvoor.
Carry
at 02 October 2020
Verified
---
laatste twee gerechten hadden wat mij betreft wat teveel zuur
Peter Van Beek
at 01 October 2020
Verified
---
"TOP!"
Samen met mijn zoon een heerlijke avond gehad met mooie en verfijnde gerechten met bijpassende wijnen in n prachtige omgeving! Zeer vriendelijke en toegankelijke bediening met veel kennis van zaken. Wij voelden ons heel welkom!
Marianne Waaijer-van Roest
at 01 October 2020
Verified
---
Was perfect
Sietze luijmes
at 20 September 2020
Verified
---
"Geweldig!"
De 4-gangenlunch (alleen op zaterdag) bij de White Room is een echte aanrader. Het eten is geweldig: prachtige opmaak en subtiele en mooie smaken. En dat alles in een prachtige omgeving, met heel vriendelijke bediening. Voor deze prijs/kwaliteit is er geen betere lunch te vinden. Wij komen zeker terug.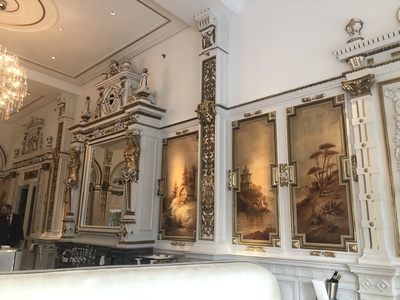 Stefan
at 20 September 2020
Verified
About The White Room by Jacob Jan Boerma*
The White Room* by Jacob Jan Boerma is the Michelin star fine-dining restaurant of NH Collection Grand Hotel Krasnapolsky. The hotel is located on the Dam with a beautiful view of the Palace in the bustling centre of Amsterdam.
The name The White Room is derived from the historic name 'De Witte Zaal' (The White Room) that was given the space when it opened in 1885. The current restaurant is considered to be the oldest restaurant in Amsterdam where original styles are still preserved. Thanks to the refined and modern styling, history and present are seamlessly connected here.
3* Michelin Chef Jacob Jan Boerma, known from 'De Leest***', is head of the White Room team. Under his signature, you will find the young yet experienced Chef de Cuisine Randy Karman. The beautiful ingredients and the fresh style of Karman ensure a perfect combination with the sour flavours and spices that Boerma is known for.
The White Room* brings an elegant but accessible cuisine that builds on products in their optima forma. Maître Bram Hommes guarantees an extraordinary service in addition to the culinary experience. Sommelier Isabel van Bueren informs you with passion about the wine offerings of The White Room.
The restaurant was awarded 1 Michelin star in 2017 and has 15 Gault&Millau points.
Reserve a table
Reserve a table