What 25 people say about Apostrof
Write a review
---
"Slechte communicatie"
Bij binnenkomst wees een kok onze tafel aan. Na 10 min kwam een engelse dame naar ons toe met een A4, waarop onze aangepaste menu stond.
De gangen werden achter elkaar geserveerd. Werd ook niet gevraagd of zij konden bijschenken met de wijn.
Tara Kalidin
at 11 October 2020
Verified
---
"Culinair genoten! "
Het eten was uitstekend. Het vijfgangendiner was qua porties precies goed. Ook werd goed op de doorgegeven dieetwensen gelet. Voor herhaling vatbaar!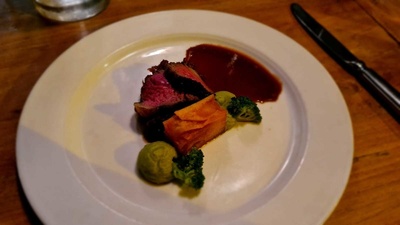 Nicky C.
at 03 October 2020
Verified
---
Lekker gegeten, het restaurantweek menu had een goede prijs/kwaliteit-verhouding en de bediening werd gedaan door de chef zelf wat hij er leuk deed. Aanrader!
Jaap
at 26 September 2020
Verified
---
Goed eten
M Stolp
at 01 February 2020
Verified
---
Erg lekker eten. Zeer vriendelijke bediening en fijn gezellige sfeer!
Matthijs Jahae
at 31 January 2020
Verified
Planciusstraat 49 1013 ME Amsterdam
About Apostrof
At Apostrof, located in a characteristic building in the heart of Amsterdam, you can taste the passion for good food with a classic French base and various Mediterranean influences. They serve simple yet sophisticated dishes that will surprise you without a doubt.
All the ingredients that are used are pure and fresh and the wines that are served are honest and affordable. Apostrof works with a fixed storage, which means that you can drink a special wine for a tempting price.
The hospitable service and the atmospheric interior makes Apostrof the perfect place for a pleasant night out!
Reserve a table
Reserve a table