What 315 people say about Oranjerie
Write a review
---
Heerlijk gegeten, vriendelijke bediening en mooie ambiance. We hebben genoten!
Ingrid
at 11 October 2020
Verified
---
Heerlijk gegeten in een mooie omgeving.
Service viel iets tegen
Patricia
at 07 October 2020
Verified
---
"Diner is meer dan goed verzorgd eten"
Heerlijk gegeten, service lagere beoordeling omdat wijn goed aan de prijs is maar terughoudend wordt geschonken en koffie plus (€ 12 voor 2) wordt geserveerd terwijl enkel koffie en thee was besteld. Ook hier duur tafelwater (€ 5 voor 0,75 ltr) i.p.v. kraanwater (wordt ook niet gevraagd).
Gerrit Bruggeman
at 26 September 2020
Verified
---
"Heerlijk gegeten! "
Heerlijk gegeten (3 gangen lunch) in de restaurant week. We komen hier graag nog een keertje terug.
Fieke
at 24 September 2020
Verified
---
Weer heerlijk gegeten bij de Oranjerie! Onvolprezen kwaliteit en originaliteit van smaken Heerlijke bijpassende wijnen mogen genieten. We komen snel weer!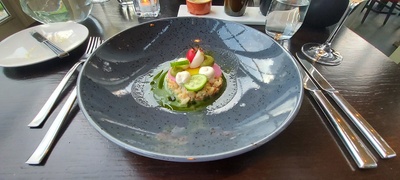 Erik en Minette
at 20 September 2020
Verified
Stationsweg 4 A 3771 VH Barneveld
About Oranjerie
The De Oranjerie restaurant is located on De Schaffelaar estate in Barneveld. The ambiance is classic yet very atmospheric. At the unique location in the middle of the Veluwe you can enjoy the delicious dishes of the chef. The traditional products mainly come from smaller suppliers in the area. Pamper yourself with a fantastic lunch or a culinary dinner. Do you also want to come and enjoy creative and original dishes? Then quickly book a table at restaurant De Oranjerie.
Reserve a table
Reserve a table