Free cancellation
You can cancel your reservation at this restaurant any time.
Deal

Amazing 8 course Michelin lunch

€69.50
Restaurant Graphite* is located on the Paardenstraat in Amsterdam, near the famous Rembrandtplein.
Restaurant Graphite can almost be called the second home of owner and chef Peter Gast. After 16 years of working in Zutphen, where he was awarded a Michelin star, he and Jacqueline van Liere opened the mysterious Graphite in the heart of Amsterdam on the Rembrandtplein. They have only just opened but are already a secret tip in Amsterdam. A restaurant that you have to open yourself with a QR code on your phone, without a nameplate at the door - the first speakeasy in the Netherlands.
Chef Peter brings his passion for good food back to the neighbourhood in Graphite. A place that changes with the times.
Chef Peter Gast has created a fantastic 8-course lunch for Diningcity for only €69.50 per person.
Please note! Limited availability. Full = full. You'll receive a QR code on the day of your reservation via Whatsapp. .

Reserve a table
Reserve a table
Reservable till 30 December 2021
Not in combination with other offers
The price of the deal is per person
Only valid for online reservations through www.diningcity.nl
What 55 people say about Graphite*
96% of the guests recommend this restaurant.
Write a review
---
Good food and will come again.
Connie Weng
at 15 October 2021
Verified
---
"An impressive restaurant"
Sashimi there is the best one I've ever had! Oriental cherry flavored ice cream is excellent! The whote set is so creative! Great experience there.
Holly
at 15 October 2021
Verified
---
Fantastisch gegeten en mooie mysterieuze sfeer!
Wen
at 02 October 2021
Verified
---
Superlekker
Ingrid Elzinga
at 24 September 2021
Verified
---
"Genoten"
Verrukkelijk gegeten, alles smolt op de tong, smaken heel subtiel. Sfeer beviel heel goed, intieme hoekjes en vrij donker waardoor je met nog meer aandacht ging proeven. We kwamen helemaal bij en hebben genoten.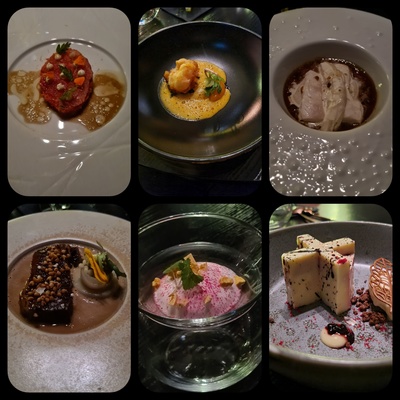 Roos J
at 18 September 2021
Verified
Paardenstraat 15III 1017CX Amsterdam
About Graphite*
Cuisine: Innovative
Graphite* is the first speakeasy restaurant in the Netherlands and is located in the Paardenstraat near Rembrandtplein. The restaurant is mysterious and hard to find. So you have to look for a door with a scanner and take your QR code with you.
The setting in the restaurant is reminiscent of bars at the time of the American reclamation. An intimate yet spacious restaurant with a clubby atmosphere, loud music and dimmed lights. A mysterious environment.
Chef Peter Gast has earned his spurs in the past 16 years as chef of restaurant 't Schultenhues in Zutphen. He prepares classic dishes and refined sauces and combines these with inventive ideas.
In 2020 Graphite was awarded 1 Michelin star and in total they have 16 Gault&Millau points.
Reserve a table
Reserve a table