What 46 people say about Smaek
Write a review
---
Wij bezochten dit restaurant voor het eerst. Smaek heeft indruk op ons gemaakt, door voortreffelijk eten en uitstekend gastheerschap.
Hans Vissers
at 10 March 2020
Verified
---
Leuk restaurant; ondanks dat het niet druk was voelde het niet 'leeg'; Eten was lekker 2 gangen waren uitmuntend; 2 gangen waren erg goed en slechts één gang was 'voldoende' maar nog zeker niet onder de maat. Fijn restaurant dus waar we zeker nog eens terug gaan komen
JVDE
at 03 March 2020
Verified
---
Heerlijk eten. Vriendelijke bediening. Goede wijn/spijs combinaties.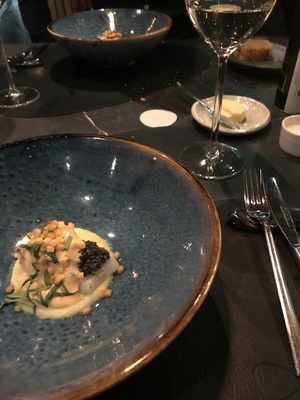 M S
at 28 February 2020
Verified
---
"Erg smaekelijk!"
Heerlijk gegeten, vriendelijke en vlotte bediening, een aanrader
pieter VerLoren
at 23 February 2020
Verified
---
Een restaurant om door een ringetje te halen. Alles klopt !!! Een ster waard !!!
Ria Werrelmann
at 25 January 2020
Verified
Nieuwendijk 17 5664 HA Geldrop
About Smaek
Restaurant Smaek in Geldrop translates the vision of the owner, and chef, into the most beautiful dishes; classical cooking with a modern twist. Kindness and hospitality is of high value for the whole Smaek crew.
Besides the gorgeous dishes, Smaek also distinguishes itself from the other restaurants in the area by its wine collection. Next to the restaurantarea there is a wine bar area where you can enjoy small snacks in appetizer size with the finest wines to match.
Restaurant Smaek will be a unique experience!
Reserve a table
Reserve a table