What 156 people say about Bistro-Mer
Write a review
---
"Kreeft"
Fancy en lekker eten. Is wel wat aan de prijzige kant, maar daar krijg je wel wat voor terug!
Anoniem
at 08 February 2020
Verified
---
"Gegrilde kreeft"
Goede bediening, sfeer en lekkere kreeft gegeten. Aanrader !!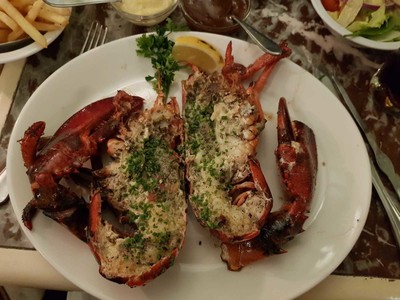 Aziza
at 08 February 2020
Verified
---
Al vele jaren één van mijn favoriete restaurants met steeds weer uitstekende visgerechten in een ongedwongen Franse bistro sfeer. De ruime keuze oesters is uniek. Dit restaurant is een sterke aanbeveling voor een fijne avond uit.
Rijkus
at 22 December 2019
Verified
---
"Heerlijk gegeten "
Goede bediening. Heerlijke sfeer.
Rob en Anita Bouwman
at 28 November 2019
Verified
---
Top plek om super lekker vis te eten.
Dirk van Gemert
at 01 November 2019
Verified
Javastraat 9 2585 AB The Hague
About Bistro-Mer
Bistro-Mer has been a household name in The Hague for 35 years. The Bistro specializes in fish, lobster, and oysters. The beautiful shop window full of fresh fish, shellfish and crustaceans immediately attract attention. The timeless decor and luxurious ambiance create a Parisian atmosphere. The menu is full of daily fresh dishes that are prepared with love. Bistro-Mer has a French traditional kitchen that will certainly not disappoint you. Enjoy the best from the sea! Come visit Bistro-Mer!
Reserve a table
Reserve a table