Gasterij 't Oaldershoes
97%
What 42 people say about Gasterij 't Oaldershoes
Write a review
---
Het was zeker niet de laatste keer dat wij hier zijn gaan eten, top!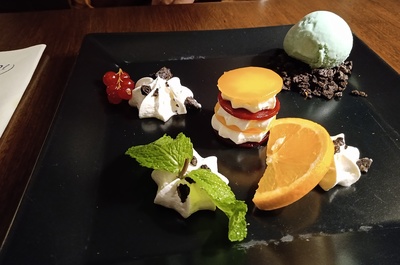 Yvonne Lamberts van Dam
at 27 September 2020
Verified
---
Erg lekker gegeten, gevarieerde kaart, prima bediening en erg sfeervol restaurant, echt een huiskamergevoel.
Erik Lentfert
at 26 September 2020
Verified
---
"Lekker gegeten "
Lekker gegeten, ook mooi opgemaakte borden met oog voor detail en smaak. Vriendelijk personeel, wat minder attent qua in de gaten houden of we nog drinken hadden etc. Ik vond de tafeltjes wat dicht op elkaar staan, dat maakte t n beetje 'benauwd'. Wel weer n hele mooie locatie zo naast de oude Blasius. Al met al n fijn etentje voor een goede prijs, aan te bevelen!
Monique ter Wengel
at 25 September 2020
Verified
---
"Lekker eten, vriendelijke bediening"
lekker eten, vriendelijke bediening.
Enige minpuntje; 4 gangen diner hield in 2 voorgerechten vd kaart, 1 hoofdgerecht en 1 nagerecht. Dat is heel veel eten.
Rebecca
at 24 September 2020
Verified
---
Heerlijk gegeten, gezellige inrichting
F Van Dorp
at 20 September 2020
Verified
Kerkstraat 5 7491 BL Delden
About Gasterij 't Oaldershoes
Gasterij 't Oaldershoes in Delden is a cozy and authentic restaurant that exudes the English atmosphere. In front of the restaurant there is a red English telephone box, therefore the atmosphere of the guesthouse has already been determined.
't Oaldershoes has been around since 1882, the time when the building functioned as a dairy shop with its well-known homemade ice cream. Where the ice cream has been replaced by culinary treats, the hospitality and conviviality have been preserved.
Reserve a table
Reserve a table