What 932 people say about 't Amsterdammertje*
Write a review
---
Fantastische avond gehad bij dit restaurant. De sfeer is gezellig, het personeel is uiterst vriendelijk, de service is geweldig en het eten is heerlijk. Hier komen we terug!
Puck Klinkers
at 08 October 2020
Verified
---
Heerlijk verwend met verfijnde wereldgerechten. Zoveel prachtige smaken in elk gerechtje, van amuse tot dessert. Fijne en hartelijke bediening. Aandacht voor de gast. Een in deze tijd ook voorzien van alle maatregelen om het niet alleen heerlijk maar ook safe te houden.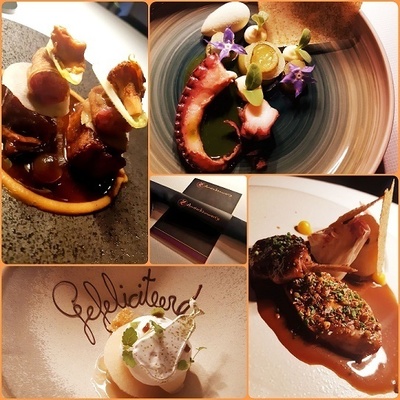 Yvonne v G
at 08 October 2020
Verified
---
Zoals altijd bij 't Amsterdammertje, top avond
RH
at 07 October 2020
Verified
---
"T was weer geweldig👌"
Het was weer geweldig👌
Veel respect voor chef en crew van het Amsterdammertje om met deze Corona regels zich staande te houden!
JC Meuwissen
at 05 October 2020
Verified
---
Middelmatig, gerechten te groot
RW
at 05 October 2020
Verified
Rijksstraatweg 119 3632 AB Loenen aan de Vecht
About 't Amsterdammertje*
Restaurant 't Amsterdammertje is located in Loenen aan de Vecht. Since the 80's 't Amsterdammertje has been an understanding in the Gooi- and Vechtarea. It was one of the first brasseries in the country to offer a 3 course menu.
Chef André Gerrits started his professional career as a chef at Restaurant de Kromme Dissel. After gaining work experience in various kitchens and taking his culinary skills to a higher level, he took over 't Amsterdammertje in 2009 together with his wife Genevieve. Success soon followed, because in November 2010 't Amsterdammertje was awarded a first Michelin star.
Worlds come together in the beautiful monumental old Dutch farm of this restaurant. Chef André and his team take you into the worlds of gastronomy, design, culture and craftsmanship. High-quality culinary dishes from international cuisine are inspired by the seasons and served by a passionate and driven team.
Behind all dishes there is a story and the guests are invited to take part in this experience. Together with the sommelier the chef works on the wine-food combination for each dish. These are mainly pure and organic wines from all over the world with a preference for wines from Germany, Austria and Northern Italy.
Be surprised by the culinary dishes that 't Amsterdammertje has to offer.
Reserve a table
Reserve a table