What 192 people say about By J&M
Write a review
---
Super gezellige gastvrouw met persoonlijke aandacht voor de gasten en ook nog lekker eten. Topavond gehad.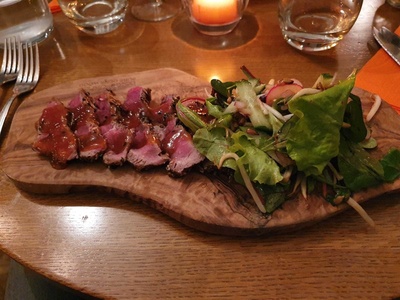 Anja Roosen
at 21 October 2020
Verified
---
"Top bistro"
Begrijp waarom dit restaurant zulke lovende reviews krijgt. Heerlijk eten en goede wijnen voor een eerlijke prijs. Dat in een relaxte setting met een vlotte en gastvrije bediening (Marion is gastvrij met een goede dosis humor) maakt alles af. Kan zomaar 1 van onze Haagse favorieten worden!
Robert
at 11 October 2020
Verified
---
Super sfeer, persoonlijke aandacht voor iedereen, knus, warm en heerlijk gevarieerd menu. Aanrader voor iedereen, komen graag en vaker terug!
Char
at 04 October 2020
Verified
---
Gezellig en huiselijk met leuke, spontane en vlotte bediening. Lekker eten voor een goede prijs. Wij komen zeker terug!
Ingrid Dito
at 01 October 2020
Verified
---
"Gezellig "
Gezellig huiselijk en lekker gegeten
Jenny Jongmans
at 01 October 2020
Verified
Prinsestraat 99 2513 CC The Hague
About By J&M
By J & M in The Hague, you feel right at home.
At this restaurant, hospitality is a priority. You can also come here for a drink or a good cup of coffee.
Relax by the fire and enjoy the most delicious dishes in a cozy English atmosphere.
Reserve a table
Reserve a table