What 309 people say about Villa la Ruche
Write a review
---
"Verrassend "
Heel erg verrassend gegeten
Regina Arenberg Peeters
at 30 September 2020
Verified
---
"Gezellig avond en heerlijk gegeten "
Het eten was heerlijk en de bediening erg vriendelijk!
Jetje95
at 26 September 2020
Verified
---
"We were happy to be back!"
It had been a while since we dined I this restaurant last, and it was great to be back. We started with gin & tonic from the welcome trolley and had 5 course meal and great amuses. Favorite dish was Kalfszwezerik (photo)! It was quiet week day evening which made the atmosphere a bit less vibrant and background music did not help, but all in all we enjoyed our evening out with delicious dinner.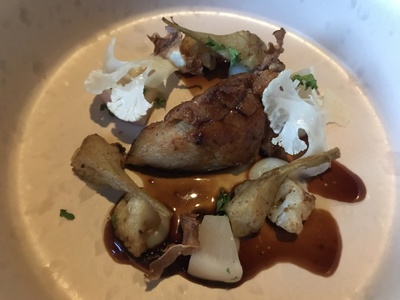 Sirpa van der Heijden
at 17 September 2020
Verified
---
"Goede sfeer, heerlijk en luxe diner"
Geen op of aanmerkingen
Joshua
at 07 March 2020
Verified
---
"Valt iets tegen"
De amuses en voorgerechten waren prima, maar de hoofdgerechten (eend en foie gras) smaken niet zoals we verwacht hadden.
Er was ook wat onenigheid over de eindrekening, maar we denken dat het mede de schuld is van Dining City !!
Sin Tan
at 01 March 2020
Verified
Prinses Mariannelaan 71 2275 BB Voorburg
About Villa la Ruche
At Villa la Ruche in Voorburg you can really enjoy it. The team is very hospitable and certainly makes for a great evening. The delicious wines and unique creations of the chef will certainly surprise you. The card changes every season, so it never gets boring. The intimate atmosphere ensures that you can really enjoy yourself. Experience it now for yourself! Come and visit Villa la Ruche in Voorburg.
Reserve a table
Reserve a table