Deal

3-gangen Chef's diner

€ 28,50
Tijdens de Nationale Restaurant Week bieden toprestaurants een geweldig en bovendien zeer voordelig verrassingsmenu aan. Een aanbieding die je niet wilt missen!
Restaurant Amstel Boathouse is op basis van reviews geselecteerd als een van de deelnemende toprestaurants.
Wil jij lekker genieten van het 3-gangen Chef's diner bij restaurant Amstel Boathouse voor maar € 28,50? Reserveer dan nu!
Let op! Wegens de huidige maatregelen is het aantal Restaurant Week tafels beperkt. Reserveer dus op tijd.
Heb je dieetwensen? Op het reserveringsformulier kun je jouw verzoeken aangeven zodat het restaurant daar rekening mee kan houden.
Reserveer een tafel
Reserveer een tafel
Te reserveren t/m 31 oktober 2020
Niet icm met andere acties
De prijs van de deal is per persoon
Alleen geldig bij online reserveringen van www.diningcity.nl
Wat 45 mensen zeggen over Amstel Boathouse
Schrijf een review
---
"Bijzondere gerechten op rommelige plek"
Weinig kennis van gerechten , reservering ook niet bekend. Weinig keuze, hoofdgerecht bv vlees of vegetarisch. Wel lekker
Els
op 20 september 2020
Geverifiëerd
---
The location and restaurant are nice with a good view of the Amstel and there were good drinks, great to enjoy on a warm day. The aubergine tartar starter was lovely, but the braised veal was a nice flavour but too fatty for my liking. Service was a little slow between starter and main.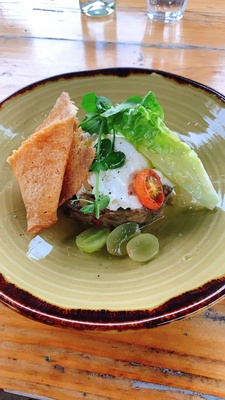 Vik
op 17 september 2020
Geverifiëerd
---
It's ok! I expected better food!
Samya Menezes
op 15 september 2020
Geverifiëerd
---
"Very nice ambiance, service and food"
Exceeded expectations!
Bela
op 02 oktober 2019
Geverifiëerd
---
"Niet speciaal"
Restaurantweek 3 gangen menu gegeten. We zijn gewend dat daar iets speciaals van gemaakt wordt. Bij het Boathouse was dat nauwelijks speciaal te noemen. Zonder toelichting kregen we de gerechten. De Gravat Laks was vlak van smaak; de kippedijen waren lekker krokant, maar een beetje droog en de peche melba kwam naar ons idee uit blik. De bediening was vriendelijk.
Robert
op 30 september 2019
Geverifiëerd
Amsteldijk 223 1079 LK Amsterdam
Over Amstel Boathouse
Je voelt je welkom in het warme, intieme en gezellige Amstel Boathouse en laat je verrassen door de fantastische plek midden in het Martin Luther King park. Dit is zo'n plek; eentje waar je terecht kunt voor lichte lunch, een gezellige borrel of een uitgebreid diner. Laat de stadsdrukte even voor wat het is en kom hier voor een met liefde bereide maaltijd en een bijpassend glas wijn of bier.
Het Chefs Menu van Amstel Boathouse verandert regelmatig en je kan hier ook altijd a la carte bestellen. In de keuken worden pure, verse producten gebruikt en dat proef je! Chef kok Arne en zijn team koken graag voor je en ervaar de ongekende gastvrijheid van het bedieningsteam.
Het restaurant is gevestigd op een prachtige locatie aan de Amstel en heeft groot terras, een overdekte veranda én een evenementenlocatie met maar liefst acht verschillende zalen. Daarnaast beschikt de locatie over een eigen aanlegsteiger aan de Amstel en een naastgelegen parkeerterrein waar restaurantgasten gratis kunnen parkeren.
Laat je verwennen door de overheerlijke gerechten van Amstel Boathouse!
Reserveer een tafel
Reserveer een tafel