Deal

Delicious 7 dishes take-away menu at home!

€19.50
Support restaurant Aleppo restaurant in this difficult time and enjoy a culinary experience in your own home!
Due to the mandatory closing of the restaurants and cafes, it is unfortunately not possible to enjoy a dinner at one of the restaurants. Therefore restaurant Aleppo restaurant will prepare an excellent authentic 7 course Syrian speciality dinner for you at home.
Restaurant Aleppo restaurant will prepare a fantastic menu made with a lot of love, care and of course amazing ingredients. Order this fantastic meal now and enjoy this culinary experience at your own dinner table.
How does it work?
The starter and dessert will be cold and the main course can be warmed up at home.
For pick up:
- Pick up your order between 15:00 and 22:00.
- Mention in the comments field that you will pick up the order.
Menu:
You get all the dishes below (so you don't have to make a choice).
- Soup
Syrian lentil soup with lentils and fresh ground vegetables
- Cold mazza
Fatoush
traditional Syrian salad with baked bread and pomegranate molasses dressing
Hummus
chickpeas, tahini, lemon juice and olive oil
Mutabal
grilled eggplant mixed with yogurt and tahini
muhammara
grilled paprika puree mixed with walnut and pomegranate molasses
Yogurt salad
yogurt with cucumber, garlic and mint
- Deep fried warm mazza
Falafel
fried mix of chickpeas and vegetables served with tahini
Sabousek b jibne
fried filo leaves filled with cheese
- Baked warm mazza
Batata hara
spicy potatoes in Syrian way
Betengan bl batata
fayatar (pie) with eggplant, bell pepper and tomato
- Flat bread
Manakish za'atar with Middle Eastern spice mixture
Manakish mohammara
with spread of walnuts, roasted pepper and pomegranate molasses
- Grill dishes
Kebab
grilled skewers seasoned minced meat with onion and parsley
Shish taouk
grilled chicken skewers, marinated in Syrian way
Jawenih
grilled chicken
The grill dishes are served with rice and grilled vegetables
- Dessert
Syrian Baklava
Reserve a table
Reserve a table
Reservable till 30 April 2021
Not in combination with other offers
The price of the deal is per person
Only valid for online reservations through www.diningcity.nl
What 4 people say about Aleppo restaurant
Write a review
---
Heerlijk gegeten en super aardige bediening.
De locatie is snackbar-achtig maar daar moet je even doorheen prikken bij deze aanbieding!
Gewoon een keer uitproberen.
Els
at 05 October 2020
Verified
---
Heerlijk Syrisch eten.
ariarom
at 20 September 2020
Verified
---
"Heerlijk gegeten, fijne bediening"
Het aanraden meer dan waard om eens een andere keuken te proberen, met zorg alles bereid
2 zussen
at 14 September 2020
Verified
---
Laten we eens Syrisch gaan eten, dat was een goed idee. Eten is een mix van Grieks, Turks en andere mediterrane invloeden.
Erg lekker en zeker voldoende. Restaurant is in een leuke Haagse wijk gelegen.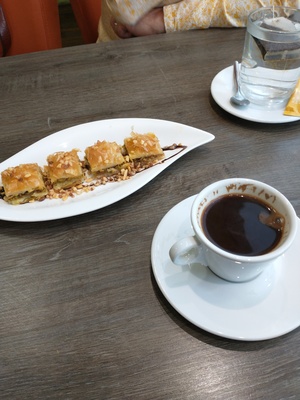 Maartenmx4
at 13 September 2020
Verified
Zoutmanstraat 2 2518 GP The Hague
About Aleppo restaurant
Experience the hospitable Syrian cuisine!
You will find the Aleppo Restaurant in the beautifully situated Statenkwartier in the centre of The Hague. Come inside and enter the Middle East, experience the music, decoration and atmosphere of this hospitable restaurant. Be amazed by original Syrian dishes, which are Halal prepared.
Reserve a table
Reserve a table