What 4 people say about Aleppo restaurant
100% of the guests recommend this restaurant.
Write a review
---
Heerlijk gegeten en super aardige bediening.
De locatie is snackbar-achtig maar daar moet je even doorheen prikken bij deze aanbieding!
Gewoon een keer uitproberen.
Els
at 05 October 2020
Verified
---
Heerlijk Syrisch eten.
ariarom
at 20 September 2020
Verified
---
"Heerlijk gegeten, fijne bediening"
Het aanraden meer dan waard om eens een andere keuken te proberen, met zorg alles bereid
2 zussen
at 14 September 2020
Verified
---
Laten we eens Syrisch gaan eten, dat was een goed idee. Eten is een mix van Grieks, Turks en andere mediterrane invloeden.
Erg lekker en zeker voldoende. Restaurant is in een leuke Haagse wijk gelegen.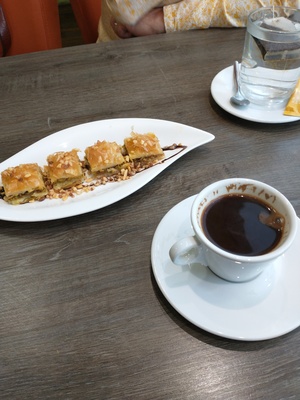 Maartenmx4
at 13 September 2020
Verified
Zoutmanstraat 2 2518 GP The Hague
About Aleppo restaurant
Cuisine: Middle Eastern
Experience the hospitable Syrian cuisine!
You will find the Aleppo Restaurant in the beautifully situated Statenkwartier in the centre of The Hague. Come inside and enter the Middle East, experience the music, decoration and atmosphere of this hospitable restaurant. Be amazed by original Syrian dishes, which are Halal prepared.
Reserve a table
Reserve a table