What 35 people say about Schielandshuis
Write a review
---
Hele vriendelijke bediening en erg goed eten voor n kleine prijs tijdens de restaurantweek.
Scarlet
at 24 September 2020
Verified
---
Everything was good, but nothing too surprising. Except for the delicious desert. Recommended!
Alex
at 21 September 2020
Verified
---
Vriendelijke host, meedenkende kok die er geen probleem van maakte om het restaurantmenu hier en daar wat aan te passen. De mocktails waren verrassend lekker
Jan
at 20 September 2020
Verified
---
"Een aanrader!"
Heerlijk gegeten, de soep lolly was erg leuk!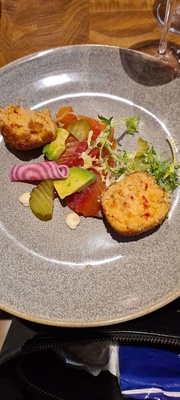 Marian van der Lee
at 20 September 2020
Verified
---
Bij binnenkomst bleek dat de reservering via diningcity niet was doorgekomen maar gelukkig toch plek. Het restaurantweek menu was lekker en goed verzorgd.De bediening kwam vrij zakelijk over. Door de akoestiek in de ruimte waar wij zaten klonk de ruimte hol en luidruchtig.
Colinda
at 20 September 2020
Verified
Coolsingel 114 3011 AG Rotterdam
About Schielandshuis
In the centre of Rotterdam you will find the new hotspot, restaurant Het Schielandshuis. The amazing kitchen of Rotterdam is put centrally. The elegant dishes consist of honest, delicious and local products. The atmosphere in this charming building is rich in history mixed with the modernity of the city. Besides discovering the inside of the bistro, you can also take a seat in the beautiful city garden, where you will be pampered with delicious dishes.
Enjoy this piece of history in the modern city of Rotterdam by yourself.
Reserve a table
Reserve a table