Casa del Sol Conosco
100%
What 16 people say about Casa del Sol Conosco
Write a review
---
"Geweldig eten en super service"
Zalige tapas en wijn. Elke twee weken een nieuwe kaart. Johan en Thijmen maken je diner echt persoonlijk, zo konden we zelf een gerecht buiten de kaart noemen wat daarna werd geserveerd. Tevens hadden we wat te vieren, waarvoor we feestelijk werden onthaald. Leuk detail, fles wijn blijft op tafel en wordt achteraf verrekend op aantal glazen. Wij komen hier zeker terug!
Margot
at 12 October 2020
Verified
---
Leuke bediening, gastvrij, heerlijk eten.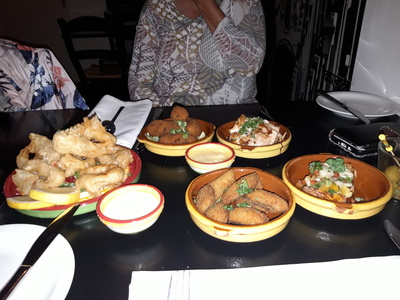 jam de Koning
at 03 October 2020
Verified
---
Heerlijk gegeten
Heel vriendelijk en gastvrij
En gratis parkeren 😁
Thea Sjerp
at 27 September 2020
Verified
---
Een klein Spaans pareltje in een winkelcentrum. Je verwacht het niet, maar hier worden uitstekende authentieke Spaanse tapas geserveerd door een vriendelijke en flexibele gastvrouw en gastheer.
Charles de Zwart
at 26 September 2020
Verified
---
Heerlijk gegeten, er werd ook prima rekening gehouden met mijn dieetwensen.
MM
at 24 September 2020
Verified
Dasstraat 34 2623 CC Delft
About Casa del Sol Conosco
Casa Del Sol conosco restaurant is the Spanish restaurant in the attractive neighborhood of Tanthof in Delft.
Host Tijmen and chef Johan together form the duo that will give you an unforgettable evening. These two ambitious gentlemen were colleagues when they decided to go their own way together. They started a Spanish restaurant that had to feel like 'at home' and that is how Casa del Sol conosco was born.
Come and enjoy these Spanish specialties and imagine yourself on holiday!
Reserve a table
Reserve a table