What 9 people say about Restaurant Brutaal
Write a review
---
Elke gast belandt in een warm bad!
Josta Bischoff Tulleken
at 19 October 2020
Verified
---
"Boven verwachting heerlijk gegeten en gezellig gezeten bij Brutaal"
Bij aankomst arriveer je al gelijk in een warm bad. Attent, enthousiast en flexibel personeel geven elke gast persoonlijke aandacht en willen het ieder naar 't zin maken. De chef-kok creëert mooi opgemaakte borden gevuld met zalige gerechten. Echt smullen!
Josta Bischoff Tulleken
at 01 October 2020
Verified
---
Tonijn was te overheersend in hoofdgerecht. Kaasfondue als voorgerecht verassend en heerlijk.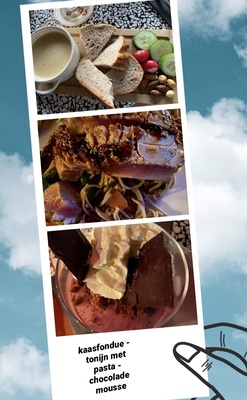 CG Korevaar
at 21 September 2020
Verified
---
"Perfect maal"
Brutaal serveert écht HEERLIJK eten! Coq au vin was heerlijk mals en voorgerecht met een zachte kaas heel verrassend. Personeel heeft ontzettend hun best gedaan om rekening te houden met onze dieetwensen terwijl ze dat pas op het laatst doorkregen. Restaurant is echt een aanrader. Sfeer een ster minder omdat het restaurant erg gehorig is.
Judith Teeling
at 19 September 2020
Verified
---
Lekker eten,
Prijs/ kwaliteit uitstekend
Een dikke vette pluim voor de bediening
Zeer klantgericht en hele fijne sfeer onderling
Greet Roorda
at 14 September 2020
Verified
Dorpsstraat 35b 1901 EH Castricum
About Restaurant Brutaal
At restaurant Brutaal you can enjoy delicious dishes and good wine. Because the menu is renewed every season, Brutaal continues to innovate. All dishes are traditionally prepared with fresh and local quality products. Brutaal is therefore the ultimate place for a night out full of passion and pleasure.
Reserve a table
Reserve a table