What 35 people say about Bar Baut
Write a review
---
"Super en echt genoten"
Heel leuk met wijnarrangement, heerlijke proeverij, echt weer even anders culinair maar ongedwongen sfeer. Wij komen vaker!
Alice
at 19 September 2020
Verified
---
Geweldige avond gehad. Boven verwachting!
Anoniem
at 18 September 2020
Verified
---
We had a work's team lunch.
Service was very well organised.
Food quality great.
Fully recommend a visit to Bar Baut!
RPB
at 18 September 2020
Verified
---
"Verrassend goed"
Heerlijk gegeten op het terras met volop ruimte.binnen zag het er sfeervol uit.we hadden een viergangen lunch via de restaurant week met uitstekende wijnen er bij. De bediening was top! De gerechten plaatjes, de chevice van zeebaars en de vegetarische tartaar smaakbommetjes! We hebben genoten!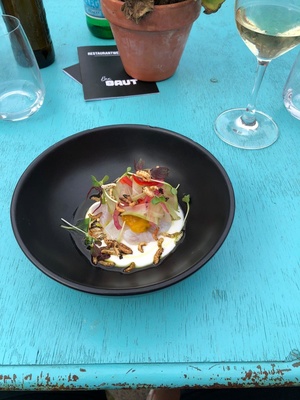 Els Remijnse
at 17 September 2020
Verified
---
Mooi opgemaakte bordjes met heerlijk eten. Aardige bediening. Wel veel verwarring over welke bestelling naar welk tafeltje moet. Prima avond gehad, kom graag terug.
Anoniem
at 16 September 2020
Verified
Stadionweg 320 1076 PK Amsterdam
About Bar Baut
Bar BAUT is in the Zuid, is for the people in Zuid and is located in Zuid. Young, old, casual passers-by, the neighbors, on your own or with more ... Bar BAUT is an accessible bar/restaurant in Amsterdam Zuid with top quality dishes and the best service.
The street art interior and the great service make Bar BAUT a cozy bar, where classic and modern meet. Bar BAUT is the ideal place for business lunches, drinks, group, semi-private and private dinners.
Bar BAUT is the second home of chef and owner Michiel van der Eerde. Long ago he fell in love with this place, then the first "night shop" in Amsterdam. With Bar BAUT, Michiel pays tribute to 6 pop-up editions BAUT. Bar BAUT brings the best dishes from these 7 years back into an informal bar concept. The perfect place for an extensive drink, walking dinner or private dinner.
Reserve a table
Reserve a table