What 35 people say about Bar Baut
Write a review
---
We tried a few places at Restaurant Week, but Bar Baut remains out favorite. Great food and friendly service. We will continue to go here on a monthly base. Why experiment if you have such place around the corner?
Roger
at 26 September 2020
Verified
---
Super lekker gegeten en buiten op t terras in de zon gezeten. Het restaurant week lunch menu is een echte aanrader!
Anne
at 22 September 2020
Verified
---
Eten was voortreffelijk. Een super leuke avond gehad. Fijne ambiance en uitstekende service. Aanrader om een wijnarrangement te nemen!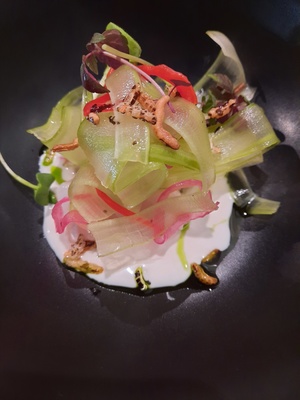 Sanne
at 20 September 2020
Verified
---
Heerlijk eten, leuke vrolijke muziek en sfeer
Lucas De Vries
at 19 September 2020
Verified
---
"Fantastic dinner and atmosphere "
N/a
Maurice Bruns
at 19 September 2020
Verified
Stadionweg 320 1076 PK Amsterdam
About Bar Baut
Bar BAUT is in the Zuid, is for the people in Zuid and is located in Zuid. Young, old, casual passers-by, the neighbors, on your own or with more ... Bar BAUT is an accessible bar/restaurant in Amsterdam Zuid with top quality dishes and the best service.
The street art interior and the great service make Bar BAUT a cozy bar, where classic and modern meet. Bar BAUT is the ideal place for business lunches, drinks, group, semi-private and private dinners.
Bar BAUT is the second home of chef and owner Michiel van der Eerde. Long ago he fell in love with this place, then the first "night shop" in Amsterdam. With Bar BAUT, Michiel pays tribute to 6 pop-up editions BAUT. Bar BAUT brings the best dishes from these 7 years back into an informal bar concept. The perfect place for an extensive drink, walking dinner or private dinner.
Reserve a table
Reserve a table