Visrestaurant De Stroper
94%
What 80 people say about Visrestaurant De Stroper
Write a review
---
Ik vond het eten een beetje flauw. Niet bijzonder. Ik heb een menu gehad van restaurant week, misschien waren de andere dingen lekker.
Verder vond ik het koud in het restaurant, het tocht.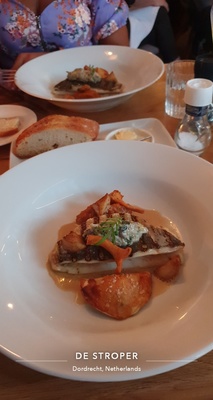 Geeta
at 09 October 2020
Verified
---
"Smaak ecplosie"
Fantastisch eten, combinaties die je noout had verzonnen, ronduit geweldig, heerlijke wijnen met speciale uitleg van de chef
Frits van Dormolen
at 30 September 2020
Verified
---
We hebben als altijd buitengewoon genoten. Alles deugde. Uiteraard komen wij weer terug.
Gerard
at 28 September 2020
Verified
---
Klasse zoals altijd. Goed bereid en heerlijke smaakcombinaties
Eric Van den Berg
at 28 September 2020
Verified
---
"Restaurant de stroper "
Wij hebben heerlijk gegeten
Jaap Vervoorn
at 25 September 2020
Verified
Wijnbrug 1 3311 EV Dordrecht
About Visrestaurant De Stroper
Fish restaurant de Stroper is located in the center, on one of the beautiful canals (Voorstraathaven) that Dordrecht has. There is a beautiful view of the water, where summer boats are moored and the tour boat starts. In the beautiful medieval canal house, you can enjoy a wonderful evening out! The kitchen can be described as the classic French cuisine as a basis, given a modern twist, with great care being taken to the quality of seasonal products, which are mostly organic. Come quickly to this culinary meeting place in the heart of Dordrecht!
Reserve a table
Reserve a table