Deal
Traditionally, traditionally and Egyptian, these characteristics characterize Restaurant Habibi. Located in beautiful Rotterdam, is Restaurant Habibi. Especially for you as a guest of DiningCity you can now enjoy a amazing 3-course dinner. A surprising, delicious and original taste that you will remember for a long time to come. Imagine yourself on holiday in this nice restaurant!
Tables are limited so book now!
Reserve a table
Reserve a table
Reservable till 21 August 2021
Not in combination with other offers
The price of the deal is per person
Reserve for free and pay in the restaurant
Only valid for online reservations through www.diningcity.nl
What people say of Restaurant Habibi
Write a review
---
"Hartelijk welkom in de Egyptische keuken"
De eigenaren weten je een geweldige avond te bezorgen. Niet alleen door het eten maar ook door de verhalen die ze erbij vertellen. Aanrader!
Marjoleine Meijs
at 16 February 2020
Verified
---
Erg lekker authentiek eten verzorgt door vriendelijke eigenaars.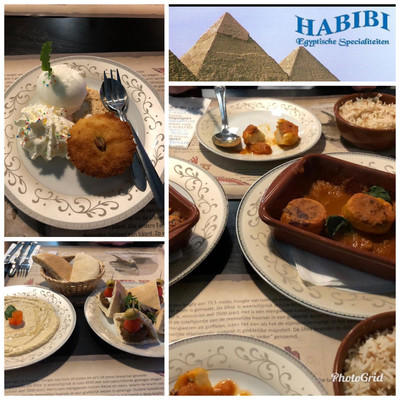 Anita
at 07 February 2020
Verified
---
We hebben er vanavond met drie man gegeten, wat een leuk restaurant! Voor ons de eerste keer Egyptisch, heerlijk gegeten, een leuke sfeer en wat een aardige mensen, absoluut geen spijt, en we willen kijken of we een keer een kookworkshop kunnen doen daar. Een aanrader Habibi!
Manja Meijer
at 26 January 2020
---
Dit was de eerste keer Egyptisch eten voor mij en mijn broertje. Wat een heerlijke ervaring was het 3 gangen menu en de eigenaren waren zo aardig, we voelden ons echt welkom. Een aanrader wat ons betreft.
Marina
at 15 January 2020
Verified
---
"Lekker en huiselijk dineren"
Het eten was écht heerlijk echt uit grootmoeders keuken.
Misschien een beetje weinig keuze op het menu
Yvonne Jorns
at 15 January 2020
Verified
s-Gravendijkwal 142b 3015CC Rotterdam
About Restaurant Habibi
At Habibi you can enjoy truly traditional Egyptian dishes as they are found in Egypt itself. These recipes and techniques are passed on from mother to daughter and are not easily found in a cookbook. This gives that surprising, delicious and original taste that you will remember for a long time and will make you long for more ...
Habibi is the only authentic Egyptian restaurant in the Netherlands.
Truly an ambassador of Egyptian cuisine.
Reserve a table
Reserve a table