Deal

Amazing Globetrotter Vietnam 4 course dinner
Discover Vietnam? Grab your backpack! Nomads takes you on a culinary trip through Vietnamese cuisine. Travel from North to South Vietnam and discover the food market of Hanoi, the rice fields of Mai Chau and the chaos of Ho Chi Minh City. Be surprised by the special flavors that this beautiful country has to offer. Get aboard & enjoy your trip!
Reserve a table
Reserve a table
Reservable till 30 April 2020
Not in combination with other offers
The price of the deal is per person
Reserve for free and pay in the restaurant
Only valid for online reservations through www.diningcity.nl
What people say of Nomads
Write a review
---
"Heerlijk en gastvrij"
Mooie gerechten en heerlijke smaaksensaties. Weer eens wat anders Vuetnamees👍
Hans Verbraak
at 20 February 2020
Verified
---
Heerlijk gegeten in een gezellige sfeer. Aanrader!
Marjon
at 13 February 2020
Verified
---
"Vietnam"
Heerlijk gegeten, prettige bediening, we komen zeker terug!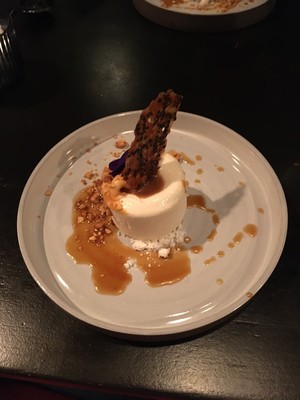 Margot
at 03 February 2020
Verified
---
"Uitstekend!"
Genoten van een zeer verrassende culinaire"reis" door Vietnam.
Leuke en lekkere gerechtjes ,mooi gepresenteerd.
Een aanrader!!
Ans Vermaas
at 22 January 2020
Verified
---
"Heerlijk gegeten!"
Verrassende hapjes met veel smaak.
Vriendelijke bediening en leuke ambiance.
Juul
at 19 January 2020
Verified
Oranje-Vrijstaatkade 55 1093 KS Amsterdam
About Nomads
In for a real adventure? Join NOMADS on a culinary journey around the world!
As true nomads, NOMADS travels around the world in search of undiscovered flavors, exciting products and authentic food experiences. They travel to two different countries every year. They are inspired by this, follow cooking workshops and fill their backpacks with local products on the market.
For 6 to 9 months, NOMADS presents the best they have discovered during their journey. Every dish has its own story and its own origins and the staff is only too happy to share this with you. This way they take you on a journey and let you get acquainted with all the special things that their destinations have to offer.
Reserve a table
Reserve a table