What people say of Van der Dussen
Write a review
---
"genieten"
alles past en is op elkaar afgestemd. Kwaliteite eten, service en sfeer in overeenstemming.
Hein
at 15 March 2020
Verified
---
"Was weer top."
Eet hier zo graag. Menu was heerlijk bediening top. Was weer een superavond.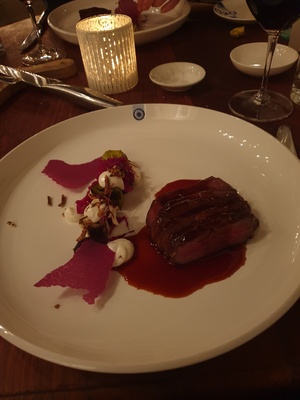 Jan Huntink
at 13 March 2020
Verified
---
Prima gegeten in een sfeervolle ambiance. Eindelijk een restaurant met een grote ronde tafel. Ideaal voor een klein gezelschap. Uitstekende verzorging. We komen zeker een keer terug. Dank voor de fijne avond.
M de Wit
at 01 March 2020
Verified
---
Wat een ambiance, sfeer en niet te vergeten fantastisch eten!!!
Hier kom ik zeker terug😀
Maarten Hartman
at 20 February 2020
Verified
---
We hebben heerlijk gegeten, het was een verrassend diner. Beslist voor herhaling vatbaar!
fijnproefster Adrie
at 18 February 2020
Verified
Bagijnhof 118 2611 AS Delft
About Van der Dussen
Restaurant Van der Dussen is located in the corner of the old Bagijnhof in Delft. The restaurant has a beautiful open kitchen where you can certainly take a look. The chefs are proud of their profession and their experienced and especially talented kitchen team. The service is also experienced and you will definitely notice that! At Van der Dussen you can enjoy honest dishes. Do you want to be pampered and enjoy a great evening? Then come quickly to Van der Dussen.
Reserve a table
Reserve a table