Yucatan Tiki Bar & Grill
93%
What 14 people say about Yucatan Tiki Bar & Grill
Write a review
---
gezellige tent met goed eten
nynke vlig
at 30 August 2020
Verified
---
prima prijs kwaliteit verhouding ga zo door
metha helms
at 21 August 2020
Verified
---
Lekker eten en gezellig personeel. Ik vind de muziek wat minder, maar past wel bij de sfeer.
Blokkerbezoeker
at 13 March 2020
Verified
---
Het eten vind ik erg matig. Eenvoudig en niet altijd goed klaargemaakt (spaghetti bijv. helemaal slap gekookt). Bediening is aardig, maar het was erg druk, dus we moesten best lang wachten. Met de rekening ging het niet goed. Bij navraag kreeg ik wel direct geld terug. Sfeer is op zich prima.
Anoniem
at 17 February 2020
Verified
---
Smaakvolle gerechten, niet al te grote porties, klein beetje aan de prijs...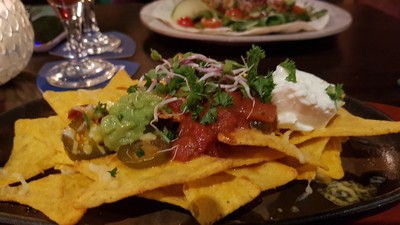 Ik-hou-van-lekker-eten
at 15 February 2020
Verified
Nieuwe Stationsstraat 23 6711 AG Ede
About Yucatan Tiki Bar & Grill
Yucatan Tiki Bar & Grill where it all started... On the Yucatan peninsula, the Spaniards first discovered the cocktail in the year 1600. That inspiration is the foundation of a style reminiscent of tropical and exotic beaches, palm leaves, bamboo, Maya, tiki masks, cocktails, Hawaiian-like scenes and more. A grill menu featuring Mock Turtle soup and mega shaslick skewers served to a pirate sword. A mocktail and cocktail menu with colorful drinks, various Caribbean rums and tequila. An interior of wood, bamboo, palm leaves, deep green, sea blue, and flamingo pink completes the experience.
Reserve a table
Reserve a table