What 28 people say about Destino
Write a review
---
Eten was goed. We hadden het 5 gangen tasting menu via diningcity. Was veel! Maar daar mag je niet over klagen, toch. Wat we kregen was divers, starter met olijven - kaas - anchovis. Daarna paar tapa's met vis, waaronder inktvis a la Planckaert (erg lekker, ook zacht). Als vlees kleine hamburger en een stukje varken en als afsluiter Cheesecake met bolletje Huis gemaakte ijs.
Baloe2803
at 11 October 2020
Verified
---
Corona proof ontvangen en heerlijk genoten van het verassingsmenu. Lieve bediening en wat een heerlijk stokbrood. We voelden ons even weer in Spanje
Foodie
at 10 October 2020
Verified
---
Fijne avond gehad. Tapas waren heel lekker. Awesome
Emanuel Lima
at 24 September 2020
Verified
---
"Hernieuwde Kennismaking "
5 jaar geleden was het, even uitzicht zeg maar. Heerlijk gegeten en gedronken. Prima eten en leuke/goede bediening. Geweldig verrassingsmenu. Komen nu iets eerder terug.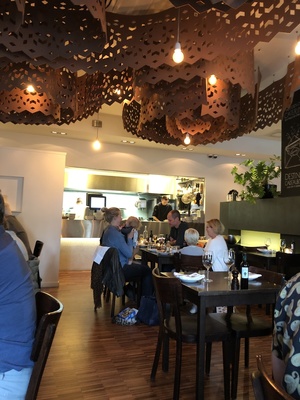 Joh van Zoest
at 12 September 2020
Verified
---
Prima tapas. Prijs/kwaliteit dik in orde/ Vriendelijke en attente bediening. Wel rumoerig door de harde wanden en plafonds. Daar hou je wel of niet van.
GeorgeA
at 11 September 2020
Verified
Zaagmolenkade 37/38 3035 KA Rotterdam
About Destino
The Spanish restaurant Destino is located in Rotterdam. Be surprised by both modern and classic Spanish dishes.
At Destino, products of the best quality are used from both home-grown and local products from Spain. Naturally as much as possible organic and responsible. The menu changes every 8 weeks and consists mainly of tapas and is seasonal. In addition, there is also a wide range of tapas that vary daily and so something new is offered every day in this way.
Destino has an eclectic and hip atmosphere. A case that you would definitely return for.
Reserve a table
Reserve a table