What 378 people say about Auberge Navet
Write a review
---
Heerlijk !!!
Augustine Huisman
at Today
Verified
---
Je kunt heerlijk eten bij Auberge Navett. De gerechten waren allemaal perfect bereid. In deze tijd ook helemaal corona-proef.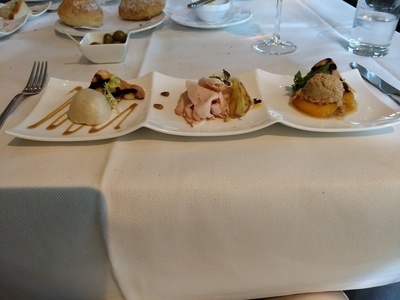 Kees en partner
at Today
Verified
---
heerlijk gegeten met 2 kinderen.
TAC MArkies
at 25 September 2020
Verified
---
"Heerlijk gegeten"
Heerlijk gegeten. Vegetarisch menu en een menu met vlees. Mooi kleuren op het bord. Heerlijke smaskcombinaties. Vriendelijke bediening. Heerlijke wijn!
Hennie van Schenkhof
at 24 September 2020
Verified
---
"Heerlijk"
Opnieuw heerlijk gegeten, goede wijn en erg vriendelijke eigenaresse
Eugenie Folkerts
at 24 September 2020
Verified
Arnhemseweg 350 7334 AC Apeldoorn
About Auberge Navet
Restaurant Auberge Navet is located in elegant Apeldoorn. In this tastefully decorated restaurant, which used to be a toll house, you can enjoy delicious traditional cuisine. Fresh products of sublime quality are used. The kitchen brigade puts phenomenal dishes on the table every time, which ensures an unforgettable day. The menu follows the seasons and is compiled with care to ensure a new unique experience every season.
Would you also like to enjoy the magnificent dishes and get to know the casual atmosphere of restaurant Auberge Navet?
Reserve a table
Reserve a table