What 114 people say about 't Ambachthuys
Write a review
---
"Heerlijk gegeten "
Het afhaal diner van 't Ambachtshuys was heerlijk. Eten was super, het was perfect geregeld en ingepakt en de instructies erg duidelijk. Er stonden zelfs handgetekende stripjes bij om het bord op de maken, hilarisch.
Heel leuk initiatief. Top geregeld.
---
"Avondje uit in huis"
Super lekker eten, eenvoudig te bereiden en leuke instructies. Als je het zelf thuis een beetje aankleedt is het net alsof je een avondje uit bent!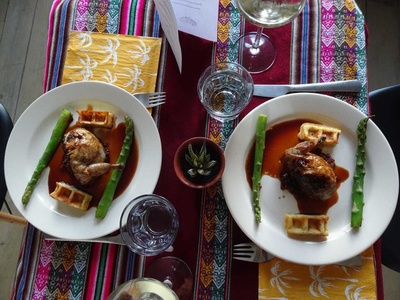 ---
"Leuk bouwpakket"
Dikke tip! Er wordt heerlijk eten bezorgd, bouwpakketje met goede instructies, leuk en lekker. Uit eten aan eigen keukentafel, met de hond aan de voeten.
---
fantastisch bezorgmenu 4 gangen, gemakkelijk klaar te maken met adequate gebruiksaanwijzing
---
"Geweldig restaurant "
Voor de zoveelste keer bij 't ambachtshuys gegeten. Het was weer een enorm goede ervaring. Gerechten verrassend en bijzonder smakelijk , erg prettige en vriendelijke bediening, kortom we hadden weer een topavond hier!
Kijk uit naar een volgende keer!
Liesbeth Linnemann
at 04 March 2020
Verified
Kerkstraat 10 3054 NC Rotterdam
About 't Ambachthuys
In the national monument 'Het Oude Raadhuis van Hilegersberg' you will find Restaurant t' Ambachthuys. A beautiful building modern and tastefully decorated. Restaurant t' Ambachthuys attaches great importance to hospitality. The basis is the classic French cuisine, but there is always room for new techniques, taste combinations, and creative ideas. The chef is inspired by seasonal and fresh products. Dishes of the best quality and purest flavors. Be surprised by the most amazing dishes! Book a table at Restaurant t' Ambachthuys.
Reserve a table
Reserve a table