What 1169 people say about De Jonge Dikkert
Write a review
---
We hebben het 6 gangen diner genomen. Was prima voor elkaar.
RvV
at 21 September 2020
Verified
---
"Op en top genieten"
Heerlijk samen genoten van echt culinaire hoogstandjes. Mooie en verrassende smaakcombinaties. Het leuke vond ik de nette, maar juist ook wel weer ongedwongen ambiance. Dit gaf een leuke twist.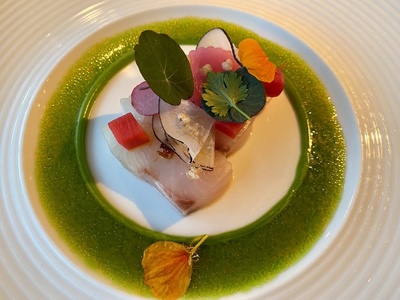 J Redert
at 19 September 2020
Verified
---
"Lekker eten"
Elk gang was lekker. Bord was heel mooi opgemaakt, een plaatje!
Kk
at 17 September 2020
Verified
---
"sterwaardig"
Al meerdere keren geweest. Gisteren was echter de topper. Erg verfijnd en heerlijke smaken.
Bert Kostman
at 14 September 2020
Verified
---
"Verrassende en uitgesproken gerechten"
Zesgangendiner tijdens de restaurantweek. Heerlijk gegeten. Van de amuse tot het dessert: fijne en verrassend uitgesproken smaken. Nette en vlotte bediening. Goede bijpassende wijnen. Echt een aanrader.

Gertjan
at 14 September 2020
Verified
Amsterdamseweg 104a 1182 HG Amstelveen
About De Jonge Dikkert
Restaurant De Jonge Dikkert in Amstelveen is located in a typical Dutch sawmill from 1672. The characteristics and unique elements of the mill have been incorporated into the modern interior. Restaurant De Jonge Dikkert also has a spacious bar and a large sunny terrace. At De Jonge Dikkert we cook with what the country has to offer. The aim is to get eighty percent from Dutch soil and from Dutch waters. Unexpected and surprising combinations of pure ingredients. The kitchen is characterized by words: Authenticity, sustainability, and health. The culinary creations of the chef are simple but oh so well executed. Book a table quickly and experience the purity at De Jonge Dikkert!
Reserve a table
Reserve a table