Deal
Joelia* is proud owner of 1 Michelin star and serves a delicious 5 course surprise Michelin menu.
Enjoy a delicious and well priced dinner at Michelin star restaurant Joelia*. Book your star table now!
Do you have any diet restrictions? Please let the restaurant know on the reservation form, so the restaurant can take this into account.
Attention! The amount of seats are limited.
Reserve a table
Reserve a table
Reservable till 31 March 2020
Not in combination with other offers
The price of the deal is per person
Reserve for free and pay in the restaurant
Only valid for online reservations through www.diningcity.nl
What people say of Joelia*
Write a review
---
Very nice restaurant with super friendly staff. The food is great. We really enjoyed the evening and will definitely come back. The welcoming from Mr Reimers is also a nice surprise.
Yuan Wang
at 17 February 2020
Verified
---
"Heerlijk eten en goede sfeer"
Een heerlijke culinaire avond gehad, een echte aanrader.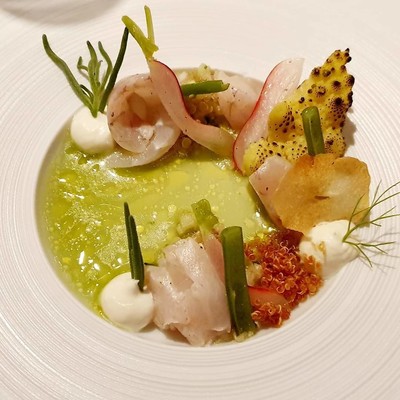 Esther
at 14 February 2020
Verified
---
"verwennerij"
Erg goed de brioche met ganzenlever en truffel was verrukkelijk. De saus bij de entrecote was hemels. De friandises bij de koffie waren talrijk en heel lekker. De bediening was top. De wijnen waren uitstekende passend bij de gerechten. Kortom verwennerij in optima forma.
frank van mansvelt
at 11 February 2020
---
Heerlijk gegeten! Mooi restaurant. We waren een middagje uit samen, maar voor ons kwamen de gerechten iets te snel achter elkaar (5- gangen binnen 2 uur).
Saskia
at 06 February 2020
Verified
---
"Echt een ster restaurant!"
Diner bij Joelia was geweldig. Niet alleen was het eten met veel aandacht en passie gemaakt, maar compliment aan de top bediening in de restaurant! We werden erg goed ontvangen en ik heb het idee dat alle gasten met gelijke aandacht werden behandeld (dat zie je niet bij alle ster restaurants). Dus Joelia is zeker een aanrader! Heb al mijn volgende diner voor februari weer geboekt!
Joy Ong
at 04 February 2020
Verified
Coolsingel 5 3012 AA Rotterdam
About Joelia*
'She's sensational, she's full of taste, she's what you were looking for, her name...Joelia'.
The young, challenging, sexy and especially cheeky restaurant Joelia is one on the bucket list. It is a place where you want to be, you don't just come to eat there, that is not even possible ... because the city of Rotterdam is the 'gift' that you always get with it. Chef Mario Ridder tries to seduce his guests with unknown and exciting flavors, which leads to an experience of top gastronomy in all its facets.
Step into the world of Joelia, the pride of Mario, and be surprised by the unknown.
Reserve a table
Reserve a table