What 168 people say about Rijnzicht*
Write a review
---
"Fantastisch!"
Het is alweer even geleden dat we hebben genoten van een fantastische lunch bij Rijzicht, maar we hebben het er nog wekelijks over. De smaken, opmaak, structuren. Stuk voor stuk topgerechtjes. En wat een gastvrije service met hele lieve, vriendelijke gastvrouw. Wij komen zeker nog eens terug.
Olaf & Odette
at 02 November 2020
Verified
---
"Helemaal top!"
Wederom heerlijk gegeten. Originele gerechten, passende wijnen en goed tempo. Het lekkerst desert ever.
Ellian en Ben
at 05 October 2020
Verified
---
"Top!"
Het eten is fantastisch en de setting aan ronde tafels erg leuk.
Babs
at 05 October 2020
Verified
---
Super lekkere lunch
HWM Kamphuis
at 05 October 2020
Verified
---
"Toplunch"
Heerlijk 4 gangen lunch menu. Prachtige gerechten met veel smaak en bijzonder mooi opgediend. Het bijbehorende wijn arrangement paste bijzonder goed. Hoogte punt voor mij het dessert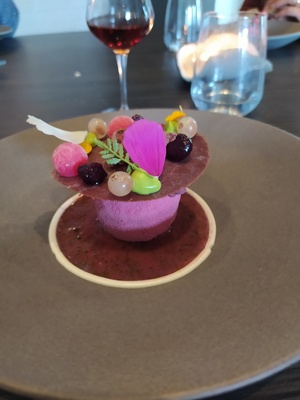 Henk Lagerweij
at 04 October 2020
Verified
Sterreschans 15 6686 MS Doornenburg
About Rijnzicht*
Restaurant Rijnzicht is located on the junction of the Rhine and Waal. The restaurant has had a Michelin star since December 2018. At restaurant Rijnzicht you can enjoy an unforgettable culinary experience. The unique taste sensations and fantastic presentations from the team will certainly surprise you. International influences and the latest cooking techniques are combined with each other. The 'innovation menu' is updated every three months so that the star restaurant can continue to develop. The exceptional hospitality and delicious wine packages make the picture complete. Come enjoy the unique experience! Book a table now at restaurant Rijnzicht!
Reserve a table
Reserve a table