What 131 people say about Bij Broeders
Write a review
---
"heerlijk gegeten, gastvrije bediening"
Uitmuntend
Ina Schippers
at 15 October 2020
Verified
---
"Heerlijk"
Heerlijk gegeten. Genoten
GW
at 15 October 2020
Verified
---
"Alles met aandacht!"
Aan ieder onderdeel van het menu was aandacht besteed en dat proef je! Een 'upgrade' naar 4 gangen zou een optie kunnen zijn. Mooie amuse en voorgerecht. Fijn dat er gevraagd werd of we een extra broodje wilden. Hoofdgerecht van sukade was top. Dessert vrij zwaar in vergelijking met de rest, komt misschien toch beter tot z'n recht, ook qua kleur, op bord ipv in een glas.
Rian Bodewes
at 15 October 2020
Verified
---
"Heerlijk gegeten! "
We hebben heerlijk gegeten nav restaurantweek en er werd rekening gehouden waar je niet van hield. Verder was het een verrassing maar alles was super lekker.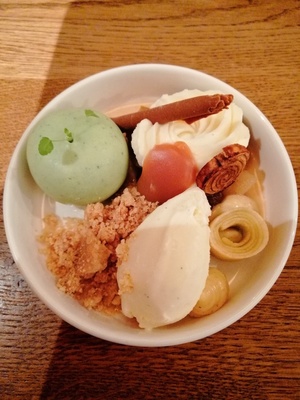 Barbara Schrotenboer
at 12 October 2020
Verified
---
Top, heerlijk gegeten!
Susan Horstra
at 09 October 2020
Verified
Bethlehemkerkplein 32 8011 PH Zwolle
About Bij Broeders
Restaurant Bij Broeders in Zwolle is run by two brothers Sven has been in the ministry since he was 16 and has worked at Os & Peper, Koperen Kees and Basiliek Harderwijk, among others. Hospitality and wines are his specialties. Sven: "Watching guests leave the door with a smile, that is my goal every evening." Bjorn has stood in various kitchens, including that of 't Nonnetje in Harderwijk,' t Wolhuys and De Librije. As a result, he has experience in various cooking and kitchen styles, from oriental to Mediterranean and from 'simple' to 3-star. Bjorn: "Tastes have to fit together, sometimes in extremes. But eating is more than just taste. You also eat with your nose and eyes." Come and enjoy a unique experience at the restaurant 'Bij Broeders'!
Reserve a table
Reserve a table