What 39 people say about Rose Garden
Write a review
---
.
Frank Maes
at 19 September 2020
Verified
---
"3 gangen diner restaurantweek heel lekker"
heerlijk menu restaurantweek, geweldige service
Richard
at 16 September 2020
Verified
---
zeer smaakvol en verrassend diner !
cas Smeets
at 06 September 2020
Verified
---
Verrassend
Anja Kuiperij
at 03 September 2020
Verified
---
"Erg genoten!"
Wij kwamen toevallig in die fijne restaurant terecht vanwege het ontvangen van een Blokker dinerbon. Het verrassingsmenu was het gene dat hiervoor werd aangeboden. De bediening was erg professioneel en prettig in omgang. Lekkere huisgemaakte non alcoholische drankjes, verfijnde smaken en die gefrituurde sushi vonden we geweldig!!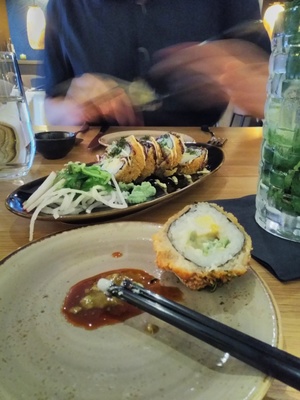 Audrey Zschüschen
at 17 August 2020
Verified
Schoutenstraat 26 3771 CJ Barneveld
About Rose Garden
Rose Garden restaurant in Barneveld has been known since 1987 as the atmospheric Asian restaurant in the center of Barneveld.
And for 2 years, Rose Garden has also been part of the "Fine Eastern". A select group that can be named among the best Sino-Eastern Restorers in the Netherlands.
Various culinary dishes with influences from Asian cuisine are prepared here with passion. From a well-cared-for Chinese-Indian-Cantonese buffet to Japanese Sushi.
Experience it for yourself and come and enjoy Asian cuisine at the Rose Garden restaurant!
Reserve a table
Reserve a table