What 3 people say about BU!TEN
Write a review
---
Prima eten. Erg grote porties.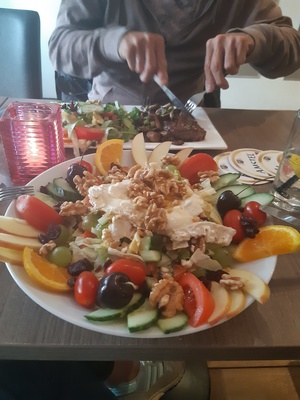 Annemiek Hoenderdos
at 20 July 2020
Verified
---
"Echt heerlijk gegeten"
Ontvangst was super gastvrij en de sfeer erg gemoedelijk en gezellig. Het eten was echt heerlijk, we hebben erg genoten van alle gangen! Dit is zeker een restaurant om nog eens terug te komen!
P van der k
at 26 January 2020
Verified
---
Eten was gewoon goed echt niks mis mee. Service was beetje apart en onduidelijk in de uitleg en voor het restaurant mag wel een keer opgeknapt worden. Maar wel een leuke avond gehad en goed gegeten
Christiaan Spoel
at 24 January 2020
Verified
Hessenweg 174 3731 JN De Bilt
About BU!TEN
You can enjoy the most fantastic dishes at restaurant BU!TEN in De Bilt. In the cozy restaurant you can enjoy delicious tapas, inspired by international cuisine. Fancy something different? You can also choose between dishes such as steak or salmon!
The BU!TEN team will do everything to make your stay as pleasant as possible. In summer you can relax here on the sunny terrace and in winter in a nice warming courtyard.
Reserve a table
Reserve a table