What 1146 people say about De Moerbei*
Write a review
---
Uitmuntende service en heerlijke creatieve gerechten! Prachtige 4-gangen lunch gehad zeer aan te raden!
Jeffrey
at 11 October 2020
Verified
---
prachtige gerechten met bijpassende wijn. bediening vol passie en kennis!!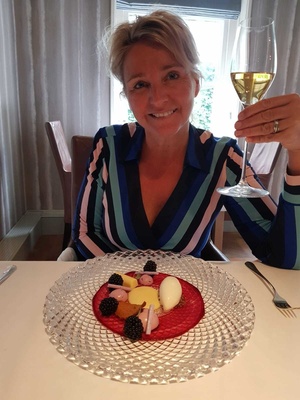 bianca poot
at 03 October 2020
Verified
---
"excellent in every aspect"
It's really nice experience at De Moerbei. The food is wonderful, very interesting fusion of Dutch, French, and Asian cuisine. Staffs are all very nice and knowledgeable.
Yue Dou
at 01 October 2020
Verified
---
Wat valt er te zeggen, de sterren die ik geef zeggen al genoeg, het is altijd top bij de Moerbei punt!
Monique en Dick Van Gilst
at 01 October 2020
Verified
---
"Weer heerlijk gegeten bij De Moerbei"
Vorig jaar hadden we hier al gegeten en was bang dat ik nu misschien te hoge verwachtingen zou hebben, maar het was zo mogelijk nog lekkerder. Heerlijke amuses en prachtige gerechtjes. Het was een zeer uitgebreide lunch en meer dan genoeg te eten. We hebben met 4 zeilvriendinnen hier heerlijk van genoten
Hannie Spruit
at 01 October 2020
Verified
Dorpsstraat 5 A 2361 AK Warmond
About De Moerbei*
In an old farmhouse in the center of the town of Warmond, you will find restaurant De Moerbei*. The interior of the farmhouse is modern and warm, but with attention to classic details. During your visit you can take a seat in one of the three rooms, each with its own atmosphere. The central area has a view of the kitchen team and the beautiful wine cellar.
The upstairs room is a small cozy space with a maximum of 18 seats. The side room is quiet and light and can welcome 24 guests. There is also a lovely terrace where you can enjoy the sun.
The chef of restaurant De Moerbei likes to keep it simple. Dishes must be recognizable. Pure flavors, made from top ingredients.
Reserve a table
Reserve a table