Deal

3 course Chef's dinner

€28.50
During the National Restaurant Week, top restaurants offer a fantastic and also a very affordable surprise menu. An offer you don't want to miss!
Based on reviews restaurant Amstel Boathouse has been selected as one of the top participating restaurants.
Would you like to enjoy the 3 course Chef's dinner at restaurant Amstel Boathouse for only €28.50?
Book your table now!
Please note. Seats are limited. Online reservations are mandatory.
Are there any dietary requirements? Please mention this on the reservation form so the restaurant can take this into account.
Reserve a table
Reserve a table
Reservable till 31 October 2020
Not in combination with other offers
The price of the deal is per person
Only valid for online reservations through www.diningcity.nl
What 46 people say about Amstel Boathouse
Write a review
---
"Niet mijn smaak"
Helaas kan ik dit niet goed vinden. Het enige wat echt lekker was, was het brood met royale boter. In de dipsausjes waren we niet geïnteresseerd. Hoofdgerecht was vet en de groente (het bleek een slasoort te zijn) was niet smakelijk. De menukaart voor de restaurantweek bestond uit twee keuzes per gang. Wel erg weinig. Nagerecht was ook niet best. Dus voor mij een dikke onvoldoende.
Maja
at 29 September 2020
Verified
---
"Bijzondere gerechten op rommelige plek"
Weinig kennis van gerechten , reservering ook niet bekend. Weinig keuze, hoofdgerecht bv vlees of vegetarisch. Wel lekker
Els
at 20 September 2020
Verified
---
The location and restaurant are nice with a good view of the Amstel and there were good drinks, great to enjoy on a warm day. The aubergine tartar starter was lovely, but the braised veal was a nice flavour but too fatty for my liking. Service was a little slow between starter and main.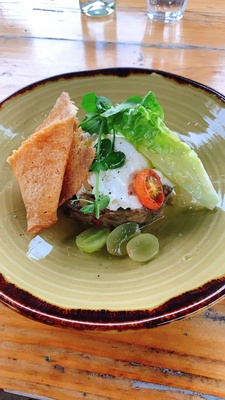 Vik
at 17 September 2020
Verified
---
It's ok! I expected better food!
Samya Menezes
at 15 September 2020
Verified
---
"Very nice ambiance, service and food"
Exceeded expectations!
Bela
at 02 October 2019
Verified
Amsteldijk 223 1079 LK Amsterdam
About Amstel Boathouse
You feel welcome in the warm, intimate and cozy Amstel Boathouse and be surprised by the fantastic place in the middle of the Martin Luther King park. This is such a place; one where you can go for a light lunch, a pleasant drink or an extensive dinner. Leave the bustle of the city for a while and come here for a lovingly prepared meal and a matching glass of wine or beer.
The Chefs Menu at Amstel Boathouse changes regularly and you can always order a la carte here. Pure, fresh products are used in the kitchen and you can taste it! Chef Arne and his team are happy to cook for you and experience the unprecedented hospitality of the service team.
The restaurant is located on a beautiful location on the Amstel and has a large terrace, a covered veranda and an event location with no fewer than eight different rooms. In addition, the location has its own jetty on the Amstel and an adjacent car park where restaurant guests can park for free.
Indulge yourself in the delicious dishes of Amstel Boathouse!
Reserve a table
Reserve a table