What 98 people say about Herberg De Klomp
Write a review
---
Heerlijk eten. Leuke aardige bediening. Was top.
J. Noordermeer
at 16 March 2020
Verified
---
We hebben heerlijk gegeten gisteren; mooie presentatie, prachtige kleuren op je bord en de smaak voortreffelijk. Aardige en vlotte dame en heer in de bediening; kortom...voor herhaling vatbaar
Dinie Pieters
at 12 March 2020
Verified
---
"Heerlijk gegeten"
Mooie locatie in prachtige omgeving. Het eten was niet alledaags maar smaakte heerlijk. Leuke, vlotte medewerkers. Klantvriendelijk.
Anja
at 08 March 2020
Verified
---
"Verassingsmenu "
Verassingsmenu gedaan.O. A. Alcoholvrije cocktail, wang en haas van wildzwijn. Voortreffelijk eten.
jacco van essen
at 28 February 2020
Verified
---
We hebben met ons allen heerlijk gegeten . de sfeer was goed vriendelijk personeel, al met al een geslaagde avond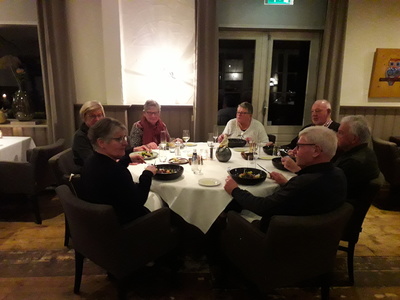 Gini Luisman
at 22 February 2020
Verified
Vilsterseweg 10 7734PD Vilsteren
About Herberg De Klomp
Dining in restaurant De Klomp, located in Vilsteren, is pure enjoyment! Always surprising culinary dishes, a relaxed hospitality and a stylish but above all friendly atmosphere.
On the regularly changing menu there are dishes prepared with the best ingredients that the nearby nature has to offer. They also serve vegetarian dishes and take special diets into account. In addition to the dishes on the menu, you can also choose for the daily specials if you want to be surprised. If desired, they serve you carefully selected wines that match your dish. The wine list consists largely of organic wines from both traditional and new wine countries.
At Herberg de Klomp you can taste the craftsmanship and pure nature in everything, which will ensure a unique experience.
Reserve a table
Reserve a table