What 24 people say about Bistro VOS
Write a review
---
Prima gegeten, leuk restaurant. Aanrader.
Joeri
at 25 September 2020
Verified
---
Genoten van het vijf gangen verrassingsmenu, en de zo vriendelijke bediening, zittend aan dat leuke pleintje!
Klein puntje: het heerlijke eten verdient een mooier servies :)
Interessant om met het personeel te praten over het feit dat een fysieke intolerantie voor voedingsmiddelen vaak ook een psychische intolerantie met zich meebrengt, ook voor de vervangende producten.
J.H.J.
at 24 September 2020
Verified
---
"Aanrader"
Klein maar fijn restaurant. Aangename sfeer, goede service en de geserveerde gerechten waren divers en smaakten goed.
Sergio
at 24 August 2020
Verified
---
Heerlijk genoten van de diverse gangen en verschillende biertjes tijdens een prachtige zomeravond op het fijne terras.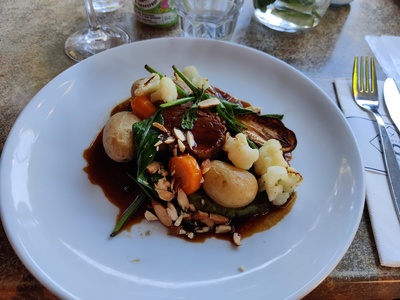 ---
Wij hebben binnen gegeten.Het eten was heerlijk de sfeer was goed. De bediening was vriendelijk maar zou wat meer afstand kunnen houden i.v.m.de corona regels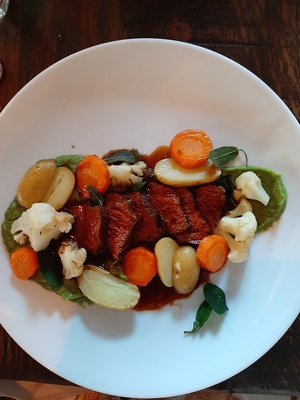 Anouska.
at 06 August 2020
Verified
Biersteeg 15 1211 GC Hilversum
About Bistro VOS
Bistro VOS is located in the middle of the historic center of Hilversum, close to the station. A wonderful place where quality, affordability and hospitality go hand in hand. Inspired by the seasons, Casper de Vos surprises with dishes for dinner and drinks that are characterized by tradition and innovation.
In addition to the seasonal menu, they also serve a weekly changing menu, composed of fresh products of the best quality. At Bistro VOS it is always about letting the products speak for themselves; combine the best ingredients with the right techniques. But you are also welcome to drink an extensive drink; indoors, or with nice weather on their sunny terrace. The restaurant serves delicious wines, but they are particularly proud of their wide range of beers and the special drinks menu, with products specially prepared for Bistro VOS.
In short, both gourmets and fun connoisseurs are welcome at Bistro VOS.
Reserve a table
Reserve a table