What 579 people say about Het Prentenkabinet
Write a review
---
"Goed eten, fijne bediening en mooie ambiance "
Heerlijk diner,
Goede wijn en attente bediening. En dat allemaal in de schaduw van de mooie Pieterskerk in Leiden. Genoten!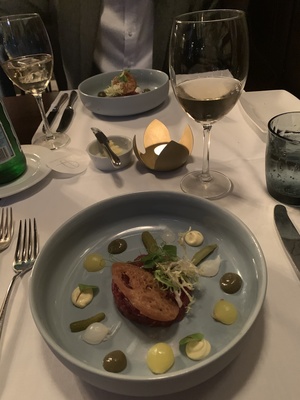 Petra van Rijn
at 28 September 2020
Verified
---
Nice services. The quality of food reach my expectation. I will come back again
Thanasis Karamanis
at 26 September 2020
Verified
---
"Menu"
Het menu voor de restaurant weken is goed samengesteld. De combinatie van de ingrediënten van het gerecht was heerlijk en de presentatie van het gerecht een plaatje. Een tip voor een gezellig diner. (25 september)
Willem en Ingrid de Groot
at 25 September 2020
---
Heerlijk avondje. Fijn dat ook goed met de Corona maatregelen werd gewerkt
Manfred Marang
at 23 September 2020
Verified
---
Heerlijk gegeten en er was flexibiliteit voor dieetwensen. Ook heel prettige bediening. We komen graag een keer terug!
I
at 18 September 2020
Verified
Kloksteeg 25 2311 SK Leiden
About Het Prentenkabinet
Restaurant the Prentenkabinet is located in the beautiful old Pieterswijk in Leiden. The old building ensures that the restaurant is certainly one of the most characteristic restaurants in Leiden. The unique character of the restaurant ensures a great experience. The chefs of the Print Room have been inspired by French and international cuisine, where the focus is mainly on the game. At the Prentenkabinet there is a lot of attention for quality and craftsmanship, so cooking is done at a high level. Come quickly to Prentenkabinet and be surprised!
Reserve a table
Reserve a table