What 578 people say about Het Prentenkabinet
Write a review
---
Heerlijk gegeten tijdens de restaurantweek, met fantastische wijnen.
Leidenaar
at 16 October 2020
Verified
---
Heerlijk gegeten en bediening was zeer attent
Marleen Dickhoff
at 13 October 2020
Verified
---
"Refined cuisine in a historical setting"
We had a very nice evening with 4 persons. The restaurant interior is relaxing. The cuisine is more traditionally inspired, but refined. The service was very attentive.
Chung-Chi Lin
at 12 October 2020
Verified
---
geen
Martin Helmes
at 03 October 2020
Verified
---
Wat blijft het toch een mooi restaurant met een fijne sfeer, door de aangescherpte COVID regels wel wat rustiger, daardoor wel meer contact met de bediening,
De gerechten waren zeer smaakvol en mooi.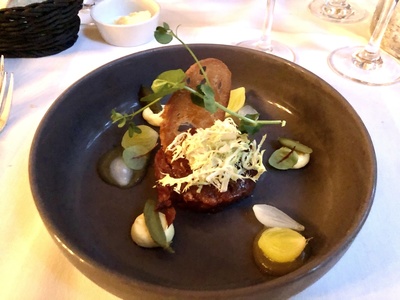 John Haasnoot
at 01 October 2020
Verified
Kloksteeg 25 2311 SK Leiden
About Het Prentenkabinet
Restaurant the Prentenkabinet is located in the beautiful old Pieterswijk in Leiden. The old building ensures that the restaurant is certainly one of the most characteristic restaurants in Leiden. The unique character of the restaurant ensures a great experience. The chefs of the Print Room have been inspired by French and international cuisine, where the focus is mainly on the game. At the Prentenkabinet there is a lot of attention for quality and craftsmanship, so cooking is done at a high level. Come quickly to Prentenkabinet and be surprised!
Reserve a table
Reserve a table