Deal

Fantastic 3 course take away menu at home!

€32.50
Support restaurant Het Prentenkabinet in these difficult times and enjoy culinary delights in your own home!
Due to the closure of the restaurants, it is no longer possible to dine at restaurants at the moment. That's why restaurant Het Prentenkabinet offers a great 3 course dinner at home.
Restaurant Het Prentenkabinet prepares a fantastic menu with a lot of love, care and above all delicious ingredients. Order this great dinner now and enjoy a unique culinary experience at your own dining table.
How does it work?
All you have to do is unwrap the home menu and follow the recipe. The main dishes are prepared in the oven. With a minimum of actions you put a delicious culinary 3 course dinner on the table.
For pick-up:
- Order your dinner before 16:00, pick up your order between 16:00 and 18:00.
- At 'comments' you can mention your choice and any allergies you may have.
- Payment via a payment request and after receipt the order will be prepared.
For delivery:
- The restaurant delivers between 17:00 and 18:00.
- Delivery in Leiden, Leiderdorp, Voorschoten, Zoeterwoude, Wassenaar and Oegstgeest. Orders will be delivered by the restaurant or taxi Wielkens for only € 10,- per delivery.
Menu: (note dishes may change due to fresh supply)
incl. bread & butter
Buffalo mozzarella, salad of grilled vegetables, marinated tomatoes, olives and sourdough toast
OR
Wild boar ham, mushroom tapenade, duck and fig compote
OR
Tuna tataki with roasted sesame seeds, wasabi prawn crackers, soy mayonnaise, wakame and soy beans
***
Fish of the day served with seasonal garnish
OR
Game stew served with hot lightning and matching vegetables
OR
Vegetarian pie served with matching vegetables 
***
Almond and pear cake, pear compote, chocolate mousse and almond biscuit
OR
Dutch cheese platter with apple syrup, raisin ball
*All main courses are served with potato and vegetable garnish.
Beverages:
- Bottle white, red or rosé € 16,95
- Bottle of mineral water with or without bubbles € 2.95
Reserve a table
Reserve a table
Reservable till 31 December 2020
Not in combination with other offers
The price of the deal is per person
Only valid for online reservations through www.diningcity.nl
What 578 people say about Het Prentenkabinet
Write a review
---
Heerlijk gegeten tijdens de restaurantweek, met fantastische wijnen.
Leidenaar
at 16 October 2020
Verified
---
Heerlijk gegeten en bediening was zeer attent
Marleen Dickhoff
at 13 October 2020
Verified
---
"Refined cuisine in a historical setting"
We had a very nice evening with 4 persons. The restaurant interior is relaxing. The cuisine is more traditionally inspired, but refined. The service was very attentive.
Chung-Chi Lin
at 12 October 2020
Verified
---
geen
Martin Helmes
at 03 October 2020
Verified
---
Wat blijft het toch een mooi restaurant met een fijne sfeer, door de aangescherpte COVID regels wel wat rustiger, daardoor wel meer contact met de bediening,
De gerechten waren zeer smaakvol en mooi.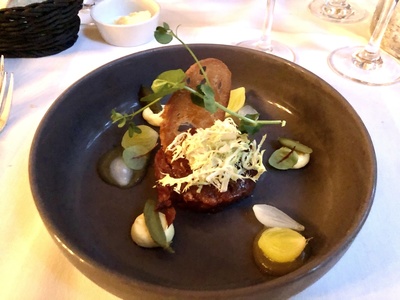 John Haasnoot
at 01 October 2020
Verified
Kloksteeg 25 2311 SK Leiden
About Het Prentenkabinet
Restaurant the Prentenkabinet is located in the beautiful old Pieterswijk in Leiden. The old building ensures that the restaurant is certainly one of the most characteristic restaurants in Leiden. The unique character of the restaurant ensures a great experience. The chefs of the Print Room have been inspired by French and international cuisine, where the focus is mainly on the game. At the Prentenkabinet there is a lot of attention for quality and craftsmanship, so cooking is done at a high level. Come quickly to Prentenkabinet and be surprised!
Reserve a table
Reserve a table