Deal

Amazing 6 course menu + 4 amuses

€70.00
High-quality products combined with the best service, that is the philosophy of restaurant Lars in Amsterdam. The restaurant invites you to enjoy the most surprising dishes. The menu changes every five weeks, so there is always something new to experience in this fantastic restaurant!
Curious? Do not hesitate any longer, make a reservation and come and enjoy the amazing 6-course menu including 4 amuses for just €70.00.
Reserve a table
Reserve a table
Reservable till 31 October 2020
Not in combination with other offers
The price of the deal is per person
Only valid for online reservations through www.diningcity.nl
What 103 people say about Lars Amsterdam
Write a review
---
Heerlijk eten, persoonlijke aandacht, lekkere wijn erbij. De bediening had er zin in en wij ook en zo kwam alles samen!
Cas
at 28 September 2020
Verified
---
Heel lekker her eten en oil echt let's besonders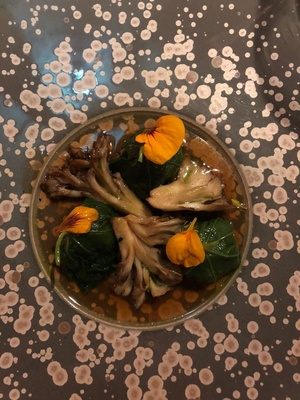 Isabel
at 27 September 2020
Verified
---
Subliem
Guido Rietveld
at 26 September 2020
Verified
---
"Top"
Heeerlijk gegeten en super vriendelijke en goede bediening!
Max Brunt
at 23 September 2020
Verified
---
Heerlijk gegeten. Prachtig opgemaakte borden. Zeker voor herhaling vatbaar. Het schitterende uitzicht is een extraatje.
Willem-Jan Vreezen
at 23 September 2020
Verified
Danzigerkade 179 1013 AP Amsterdam
About Lars Amsterdam
A catering concept developed by Lars Scharp and Floor Wiggers, that is Lars Amsterdam. This creative couple met a few years ago at Restaurant Aan de Poel **. Together they created a restaurant where you will find a combination of fine dining and robust dishes. A living room restaurant located in the Houthavens of Amsterdam.
Lars started his chef training with Paul Fagel and Robert Kranenborg, among others. His passion is French cuisine, but his dishes also reflect Asian influences. Working with daily fresh products of the highest quality is paramount.
Floor started at Ron Blaauw and gained her passion for gastronomy in various renowned restaurants. Her love for hospitality is contagious and inspiring. The biggest compliment is when guests say they really feel at home in the restaurant.
High-quality products combined with the best service is the philosophy of Lars Amsterdam. Come in, relax and be inspired by the team and the fantastic view!
Reserve a table
Reserve a table