What 28 people say about Restaurant Blij
Write a review
---
Heerlijk gegeten, goeie service. Kortom voor herhaling vatbaar
Carla Bakhuijsen
at 10 October 2020
Verified
---
"HEERLIJK"
Erg lekker gegeten. Aanrader.
Marie-Louisa Hoen
at 05 October 2020
Verified
---
Altijd even gezellig bij en heerlijk eten. Porties zijn wel wat kleiner geworden. Eerst waren ze te groot, nu iets te klein. Maar prima gaan de coronakilos er sneller af ;)
C
at 27 August 2020
Verified
---
"Top!"
Heerlijk gegeten en heel vriendelijke bediening!
Daphne
at 20 August 2020
Verified
---
"Eten bij blij daar word je met recht blij van!"
Wij hebben héérlijk gegeten op het terras aan de Vecht! Een aanrader!
Je kunt voor iedere gang 2 halve gerechtjes kiezen. Wij kozen voor vegetarisch en visgerechtjes.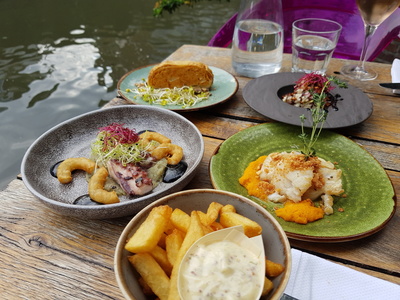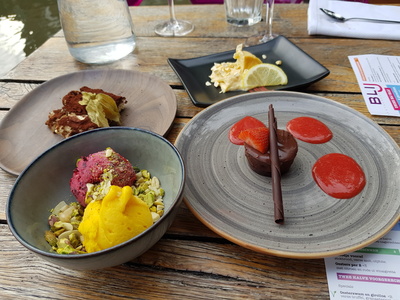 Janny Langerak
at 20 August 2020
Verified
Brugstraat 2 3514 BC Utrecht
About Restaurant Blij
Discover this hidden gem on the Vecht in Utrecht! At restaurant Blij you can explore surprising dishes and matching drinks in a contemporary manner.
It is a wonderful place where you can enjoy creative dishes. The pleasant service immediately gives you a warm welcome, you feel like a true guest. Ingredients are chosen carefully and they come together harmoniously on your plate.
Come and enjoy delicious food and matching drinks with a beautiful view of passing boats.
Reserve a table
Reserve a table