What 797 people say about De Bokkedoorns**
Write a review
---
Heerlijk gegeten
Miriam
at 13 September 2020
Verified
---
"prachtige gerechten, vernieuwend"
heerlijk gegeten, heel aparte smaakjes
Hing Teng
at 12 September 2020
Verified
---
Geweldig restaurant. Wij lunchten er op een aangename zonnige nazomerdag en aten buiten. Het terras is zeer sfeervol, het lunchmenu was verrassend, lekker en de twee sterren meer dan waardig. Een absolute aanrader en de omweg meer dan waard!
Marc Hautvast
at 12 September 2020
Verified
---
"Warme nieuwe inrichting en als vanouds zeer goede combinatie wijn/spijs"
Zondagmiddag lunch met wijnarrangement. Zeer mooi en lekker gepresenteerd. En het wijnarrangement goed bijpassend en eindigend met kaas en een top Rivesaltes 17 van het jaar 2000! Een feestje met zeer ontspannen doch servicegerichte bediening. Een betere besteding van de zondagmiddag kun je je niet wensen!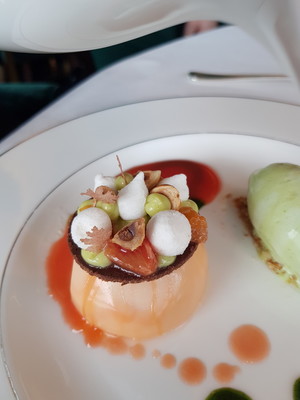 M.H.L. Jochemus
at 03 February 2020
Verified
---
lekker uit eten met de (volwassen)kinderen
G.J.M. Helwes
at 02 February 2020
Verified
Zeeweg 53 2051 EB Overveen
About De Bokkedoorns**
De Bokkedoorns** is uniquely situated in the dunes of North Holland with a beautiful view over a dune lake; close to Amsterdam and Haarlem. An ideal place to escape the hustle and bustle of the city and relax for a few days.
In 1978 the Bokkedoorns** was awarded the first Michelin star and in 1992 the second. This has made the Bokkedoorns** a household name for more than 50 years.
The restaurant has a classic setting, yet you are welcomed by the renowned maître Peter Bruins and patron Pascal Beeren in a warm and pleasant environment. Owner Pascal Beeren is doing an excellent job and will make sure that you will be pampered in a pleasant way. With a view of the breathtaking nature and surrounded by velvet decor, you will feel right at home.
The young kitchen brigade is led by chef Roy Eijkelkamp and master host Peter Bruins. They guarantee hospitality with knowledge and passion. Pure dishes are in the spotlight here and every dish on the menu is prepared with love and craftsmanship and served full of attention at the table. The creative cuisine offers the highest quality, refinedly processed in dishes that are also pleasing to the eye. The extensive wine list completes your experience.
Reserve a table
Reserve a table