What 162 people say about Ries Eten en Drinken
Write a review
---
"Echt lekker in tijden angst"
Lekker eten, goede wijnen, gezellige sfeer. Heel goed bedienend personeel. Allemaal prima voor elkaar.
Paulus
at 09 March 2020
Verified
---
Heerlijk eten. Fijne bediening.
Henriëtte
at 08 March 2020
Verified
---
"Heerlijk en bijzonder eten"
Hele mooie gerechten bereid op basis van pure streekproducten. Top bediening met verstand van de gerechten en wijn. Ries is een uitstekende gastheer!! We komen snel weer terug.
Jan van Megen
at 05 March 2020
---
"Valentijn 14-02-2020"
Heerlijk gegeten in een informele sfeer. De dames die ons bedienden waren alert op de gasten wanneer zij iets wilde bestellen. Ook was het leuk om de koks aan het werk te zien. Onze avond was mede hierdoor geslaagd.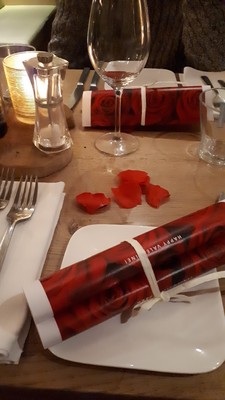 M&G
at 15 February 2020
Verified
---
"Wederom lekker en gezellig."
Het is smullen bij Ries. Elk gerecht heeft zijn volle aandacht, hij houdt rekening met eet/dieetwensen. Het was weer een feestje.
Yvonne
at 12 February 2020
Verified
Kruisstraat 17 5211 DT 's-Hertogenbosch
About Ries Eten en Drinken
The cosy restaurant Ries is located in the bustling centre of Den Bosch. The restaurant is naturally furnished which results in a wonderful atmosphere. Restaurant Ries serves international cuisine. During long journeys around the world, the chef is inspired by all influences. These international dishes are complemented by authentic Brabant regional products. This creates new flavors and recognizable dishes. Thanks to a collaboration with a well-known winery, matching wines are selected to make the evening into a great night out.
Reserve a table
Reserve a table