What 167 people say about Ries Eten en Drinken
Write a review
---
"Heerlijke plek voor een avondje uit"
Onzettend leuk restaurant en heerlijk gegeten. De sfeer en ambiance is heel speciaal met een open keuken midden in het restaurant. Wij hebben een driegangenmenu besteld van de restaurantweek. Het was heerlijk en ook echt speciaal wat er op je bord ligt. De bediening weet een mooi verhaaltje te vertellen over de wijnen en het eten.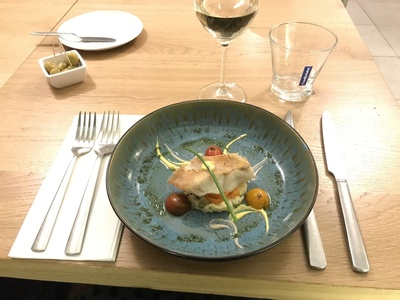 Soof
at 26 September 2020
Verified
---
"Lekker eten op een mooie locatie"
Het menu uitgebreid met een tussengerecht, borden zeer mooi opgemaakt en veel verschillende smaken. Het voor- en tussengerecht sprongen er bovenuit.
Rico
at 25 September 2020
Verified
---
Het eten was gewoon niet lekker. De wijnen waren super lekker. Dessert was ook heerlijk. Het was ook duur
Geert
at 25 September 2020
Verified
---
"Prima"
Zeker aan te bevelen.
Gerald van Grunsven
at 12 September 2020
Verified
---
Lekker gegeten, aangename sfeer en attente bediening.
Marcel
at 06 September 2020
Verified
Kruisstraat 17 5211 DT 's-Hertogenbosch
About Ries Eten en Drinken
The cosy restaurant Ries is located in the bustling centre of Den Bosch. The restaurant is naturally furnished which results in a wonderful atmosphere. Restaurant Ries serves international cuisine. During long journeys around the world, the chef is inspired by all influences. These international dishes are complemented by authentic Brabant regional products. This creates new flavors and recognizable dishes. Thanks to a collaboration with a well-known winery, matching wines are selected to make the evening into a great night out.
Reserve a table
Reserve a table