Deal

Amazing 3-course diner

€27.50
Come and enjoy a 3-course choice dinner at restaurant Cafe Restaurant Barbier.
Make your reservation soon and enjoy the amazing 3-course diner for only €27.50.
Please note that the number of tables is limited. So make your reservations in time.
Reserve a table
Reserve a table
Reservable till 31 December 2021
Not in combination with other offers
The price of the deal is per person
Only valid for online reservations through www.diningcity.nl
What 43 people say about Cafe Restaurant Barbier
92% of the guests recommend this restaurant.
Write a review
---
Mijn vriendin en ik hebben op 21 juli heerlijk gegeten. De gerechten die wij hadden waren goed op smaak en qua portie ook perfect. De service was top, leuke meid! Sfeer was top!
Mika
at 22 July 2021
Verified
---
"Supervriendelijke bediening en heerlijk gegeten! "
Supervriendelijke ontvangst en bediening.
Het eten was heerlijk.
Maar één kleine opmerking. De kaarsen walmden..
Maar dat mocht de sfeer en de smaak niet drukken!!
Francien Van den Oort
at 21 July 2021
Verified
---
Kleinschalig en daardoor aangenaam
JWM
at 12 July 2021
Verified
---
Eten is kwalitatief goed, porties wat aan de kleine kant. Bediening is aardig, maar geeft geen uitleg over wat er op je bord ligt. Het meubilair is verschrikkelijk. Het was niet druk en het leek alsof de 3 gangen er doorheen werden gesjeesd. We stonden binnen een uur weer buiten. Zelfs met de korting was het daardoor niet waard helaas.
Gast
at 12 July 2021
Verified
---
Het was erg gezellig klein knus tentje goede service en heerlijk eten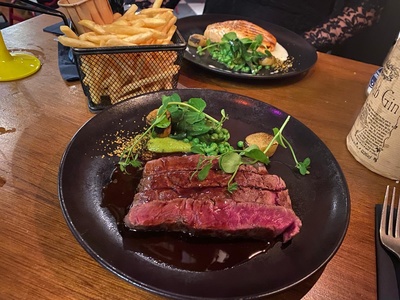 Brenda Houtepen
at 04 July 2021
Verified
Vismarktstraat 11 4811 WD Breda
About Cafe Restaurant Barbier
Cuisine: Bistro, French
Cafe Restaurant Barbier in Breda gives you the feeling of a real classic barbershop. The chefs serve delicious dishes that are tailored to the story of the Barbier. The flavors of the dishes match perfectly with the delicious specialty beers. You can also go to Restaurant Barbier in Breda for a pleasant drink with a snack. Enjoy an exceptional evening out. Book a table now at Cafe Restaurant Barbier.
Reserve a table
Reserve a table