What 119 people say about De Fortuna Edam
Write a review
---
Heerlijk gegeten, voelden ons heel welkom. Coronaproof op een heel natuurlijke manier
Angelique.
at 12 October 2020
Verified
---
"Fortuna Edam"
Fijne avond gehad met vriendelijk en professioneel personeel. Heerlijk eten dat mooi is opgemaakt
Cora Janssen
at 08 October 2020
Verified
---
Het eten was lekker, borden mooi opgemaakt en vernieuwend.
Tijd tussen de gerechten en de bestelde drankjes duurde steeds erg lang terwijl het terras bij lange na niet vol zat...
Bediening was wel heel vriendelijk.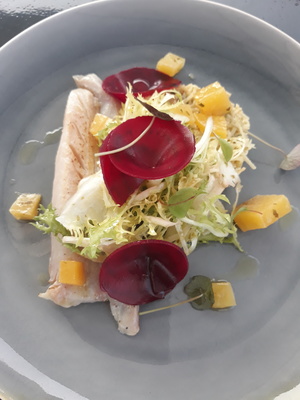 Gerda de Roover
at 22 September 2020
Verified
---
Goed eten en goede service op een mooie locatie!
JDWijnands
at 13 September 2020
Verified
---
"Top"
Blij dat ze weer mee deden. Het is elke keer een verrassing en elke keer weer top. Heerlijk eten en leuke mensen.
Ejc Tol_Molenaar
at 13 September 2020
Verified
Spuistraat 3 1135 AV Edam
About De Fortuna Edam
Restaurant De Fortuna is situated in one of the most picturesque spots in Edam.
The beautiful terrace garden and the location on the water are immediately noticeable upon arrival.
The restaurant presents a varied menu with the most delicious meat, fish, poultry and game specialties.
You can also go here for vegetarian dishes.
The dishes are prepared with the best, fresh ingredients that the area offers.
The kitchen brigade is creative, skilled and presents a completely new menu every 6 weeks.
Outside the menu, new dishes are constantly being presented.
The kitchen was thoroughly renovated in 2017 and now meets the most modern cooking requirements.
Friendly, hospitable and well-trained hosts and ladies ensure that you lack nothing during your visit.
In 2018 and 2019, the entire terrace was renovated and refurbished with comfortable furniture between the plants and along the water.
You can really enjoy yourself at restaurant De Fortuna, both inside and outside! Book a table now and experience it all for yourself.
Reserve a table
Reserve a table