Bistrobar Indonesia by Ron Blaauw & Agus Hermawan
What 80 people say about Bistrobar Indonesia by Ron Blaauw & Agus Hermawan
Write a review
---
Het eten was erg goed en verassend. Met name de streetfood voorafjes.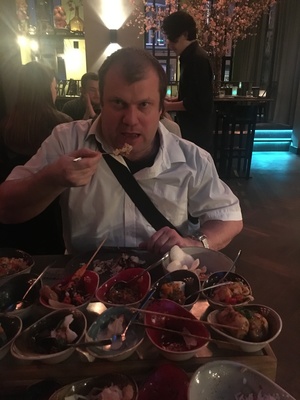 Edwin Duwel
at 11 March 2020
Verified
---
Opmaak en kwaliteit van het eten waren goed. Amazing ambiance!
Marianne Klumb
at 02 March 2020
Verified
---
"Ontspannen eten"
Was een geslaagde avond. Heerlijk ontspannen eten.
katja de brouwer
at 02 March 2020
Verified
---
Het is was echt niet warm genoeg. Acoustiek en licht slecht.
Gerrie
at 27 February 2020
Verified
---
De rijsttafel was HEERLIJK van smaak maar afgekoeld bij het serveren.Verder als : tip de muziek zachter,zeker wanneer het restaurant helemaal vol is, en meer afgestemd op oosterse sfeer.Het was nu te veel disco.Bediening top : vriendelijk zonder tandpasta glimlach.
Anita Bakuwel
at 26 February 2020
Verified
Zijlstraat 49 2011 TK Haarlem
About Bistrobar Indonesia by Ron Blaauw & Agus Hermawan
Bistro bar Indonesia by Ron Blaauw is located in beautiful Haarlem. Ron Blaauw sends his chefs throughout the Netherlands to spread the love for really good food in this way. Bistro bar Indonesia works together with a top chef who ensures that every evening is a great success. An evening full of quality, taste sensations and surprises! The matching wines or Asian cocktails make this evening complete. Treat yourself and your loved ones to a culinary evening at a high level. Book a table quickly at Bistrobar Indonesia by Ron Blaauw and experience the experience.
Reserve a table
Reserve a table