What 63 people say about d'Ouwe Tramhalte
Write a review
---
Heerlijk gegeten, gerechten met veel smaken perfect gecombineerd.
Echt een aanrader
Pietje
at 15 October 2020
Verified
---
"Super gegeten voor ieder aan te bevelen"
Veel succes voor de komende weken
Geert Hufken
at 15 October 2020
Verified
---
Mega lekker eten en onwijs fijn personeel, maar de sfeer en aankleding zijn wat stijf en doet het eten tekort.
Loren Litjens
at 09 October 2020
Verified
---
Super lekker gegeten, fijne bediening en fijne sfeer
Th. Keeris
at 01 October 2020
Verified
---
"Heerlijk gegeten!"
Heerlijk gegeten tijdens de RW. Verrassende smaken, lekkere combinaties. We werden extra verwend met een lekkere amuse en een pre-dessert. Uitstekende prijs/kwaliteit verhouding. We komen zeker terug!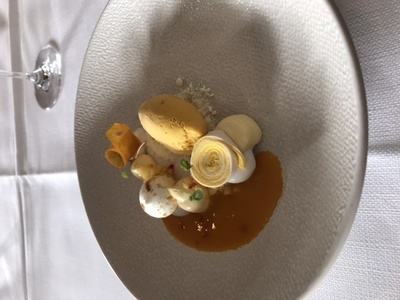 Margaretha
at 25 September 2020
Verified
Wolverstraat 28 5525 AS Duizel
About d'Ouwe Tramhalte
Restaurant d'Ouwe Tramhalte can be found in Duizel. The service is welcoming and ensures that you immediately feel at home. The kitchen is inspired by classic France. At Restaurant d'Ouwe Tramhalte your senses are stimulated. The dishes are prepared for you with passion and enthusiasm. Everything is taken care of to perfection. Are you also visiting Restaurant d'Ouwe Tramhalte?
Reserve a table
Reserve a table